SageCRM version 7.1 is now available! New features include:
Sage e-Marketing—a powerful and fully integrated email marketing solution.
Total Campaign Management—enables easy execution of multichannel marketing campaigns.
Communications Management— Microsoft Exchange server integration.
Interactive Dashboard—link multiple gadgets on a single screen.
New Report Charts—better business management with enhanced at-a-glance reports
Most important for Sage ERP Accpac users...
In addition to the standalone SageCRM 7.1, the integrated version for Sage ERP Accpac 6.0A has also been released. Below the new default welcome dashboard in SageCRM 7.1: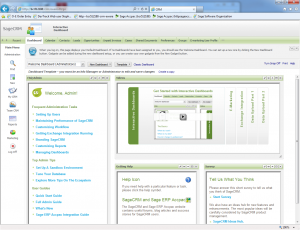 Sage ERP Accpac 6.1 will integrate to this version as well as future versions. As Sage Accpac continues its journey to the web, it will continue to integrate more and more into SageCRM. The tight integration breaks down the walls between ERP and CRM, allowing users in both worlds to get all the information they need for better decision making, whether its CRM users knowing of collections problems or A/R clerks being aware of communications that are going on between sales and customers.

Contact us for more information on SageCRM or Sage ERP Accpac and their integration capabilities. Thanks to Stephen Smith for the great information.