In 2012, new versions of Sage ERP Accpac (with the new name - Sage 300 ERP) will be launched with new features to help make your business life easier.
Sage 300 is the Sage family of business management software and services for midsized businesses and organizations and is available internationally. It supports configuration options to best match your needs and delivers a low total cost of ownership. Sage 300 includes ERP, Fixed Assets, HRMS, plus integration with Sage CRM solutions! Sage 300 solutions are sold and supported through local business partners (such as BTerrell Group) and are backed by Sage Business Care to ensure you get the most from your investment. Sage 300 grows as your business grows by providing versions to support the business growth cycle.
You can expect to begin to see these new product names used in communications early in 2012 as the launch for the new version approaches. The Sage website will begin using these names beginning in May.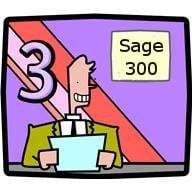 Here are the naming details for the 2012 launches:
Sage ERP Accpac 100 will launch as Sage 300 Standard ERP
Sage ERP Accpac 200 will launch as Sage 300 Advanced ERP
Sage ERP Accpac 500 will launch as Sage 300 Premium ERP
All of the Sage ERP lines are driven by long-term development roadmaps to ensure Sage continues to deliver leading solutions to help make your business life easier. Rest assured that these products, newly named to make clear the Sage portfolio of solutions available to you, will deliver the same great capabilities, support, and backup you have known and value from Sage.
We'll keep you posted as the changes take place, but please contact us if you have any questions on how these changes might affect you.