There are many conferences to attend each year and Intacct Advantage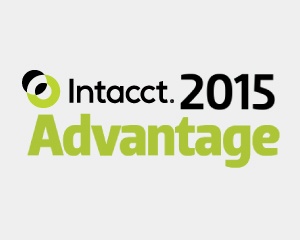 2015 is one that you don't want to miss. Intacct customers and partners alike can take away valuable tips, tricks, tools, and insights that can optimize the use of your Intacct® business management solutions. Registration is open for Advantage 2015 which is held in Las Vegas from November 9-13. Here's what you can expect from this conference:
Training: There will be several training opportunities whether you are new to Intacct, want to learn a few new tips or tricks, or need detailed training on the more advanced features. CPE credits will be available for each course you take. Be sure to bring a wireless-enabled laptop with Intacct-supported browser so that you can enjoy the full training experience.
Breakout sessions: Because Intacct can be used in nearly any industry sector and within businesses both large and small, there will be breakout sessions for unique business segments. You can find sessions for roles such as developers and CFOs, industry-specific sessions for the healthcare sector, nonprofits, and professional services, as well as information for local and global organizations. There are also sessions for prospective customers and new customers as well as Intacct Partners.
Special CFO Summit: CFOs can attend a special session to discuss many of the key issues facing today's CFO, as well as the strategy and best practices that are needed to steer a business toward a successful future.
Networking: Time has also been earmarked for networking with peers. Learn or share real world experiences with your Intacct solutions with the others at the conference. You can also take time to visit the Marketplace Expo.
Stop and see us: The experts at BTerrell Group will be in attendance at Advantage 2015 and are looking forward to seeing you there! We are also a sponsor and will have exciting announcements to share about Workforce Go!.
Advantage 2015 is right around the corner and now is the time to make your plans. Get registered to secure your spot at Advantage 2015 and gain valuable insight on using your Intacct solutions to streamline operations, improve productivity, and support business growth. Contact BTerrell Group for more information about Intacct, Workforce Go!, and the exciting opportunity that this conference can offer.
By BTerrell Group, an Intacct Premier Partner and Sage ERP Partner