Automate the Sage Intacct AP Process with iCompleat
BTerrell Group, LLP partners with Compleat Software to provide iCompleat, an AI and machine learning powered solution, to help you automate the accounts payable process, capturing purchase invoice data, and streamlining approvals, all in one application!

With iCompleat, you can increase AP efficiency, save more than the cost of licenses with company-wide unified buying options such as Amazon Business, eliminate the risk of fraud, and provide full visibility and control over company spend. It is also available via the mobile app for people on the go.
Why Choose iCompleat?
Increase productivity, reduce labor and spend with iCompleat Buy to Pay
Reduce manual tasks, automate capture invoices and add attachments into accounting system
Seamlessly real-time integrate with Sage Intacct
Compatible with BTerrell SmartEFT™
90% Less Manual Processes
Smart and Fuss-free Approvals

Zero-touch AP process automation
AI powered invoice data capture, extraction and coding by supplier and line item
Automatically add attachments to the system
Full visibility of every invoice and payment status
Automated invoice and PO matching

Simple drag and drop to create customized workflows
Enterprise grade simultaneous approval routing
Unlimited approval workflows, hierarchies and approval groups
Dedicated mobile app for approvals on the go

Gain Visibility and Control of Your Purchasing
Security First

Digitize your company's purchasing process and make significant savings
Create POs for approvals within a selected supplier list to control spend
Have real-time visibility of all invoices, approval and payment statuses
Enjoy fully automated accruals and real-time cash

Remove risk of invoice fraud completely
Multiple level data validation ensures correct payment information and stops duplicates
iCompleat is deployed on Microsoft Azure local shards adopting UK, USA and Australian local data protection
Watch the Demo Video to Learn More!
Increase Productivity and Reduce Spend with iCompleat Buy to Pay
iCompleat not only automates your accounts payable process, but it also unifies the company purchasing process. We have combined industry accounts payable best practices and cutting-edge technology to provide our customers an average rate of 12% for savings on indirect spend, up to 90% productivity gains, 100% visibility of all POs, invoices, and real-time cash requirement reporting.
Reduce Manual Tasks and Save Time with iCompleat AI Driven Capture
Tired of manually upload paper and digital invoices? The Compleat Capture provides you an unique email address to automated capture all the invoices from your vendors. No need for hardware, software, or complex training. All you need to do is tell your vendors to send the invoice to designated email address, and you can save time to focus on what matters! iCompleat will read every email invoice for you, including learning how to read data through different invoice layout with AI and machine learning.
Real-time Integration with Sage Intacct
Seamlessly connect Sage Intacct with iCompleat in minutes! iCompleat synchronizes accounting data to the Sage Intacct including real-time approved invoice postings, so you don't have to configure multiple entities, and you can see all locations, suppliers, GL codes, and live payment statuses from your accounting system and all invoice data from iCompleat.
iCompleat is fully compatible with BTerrell SmartEFT™, which enables Sage Intacct users to securely pay the vendors and send electronic funds from any bank to anywhere in the world.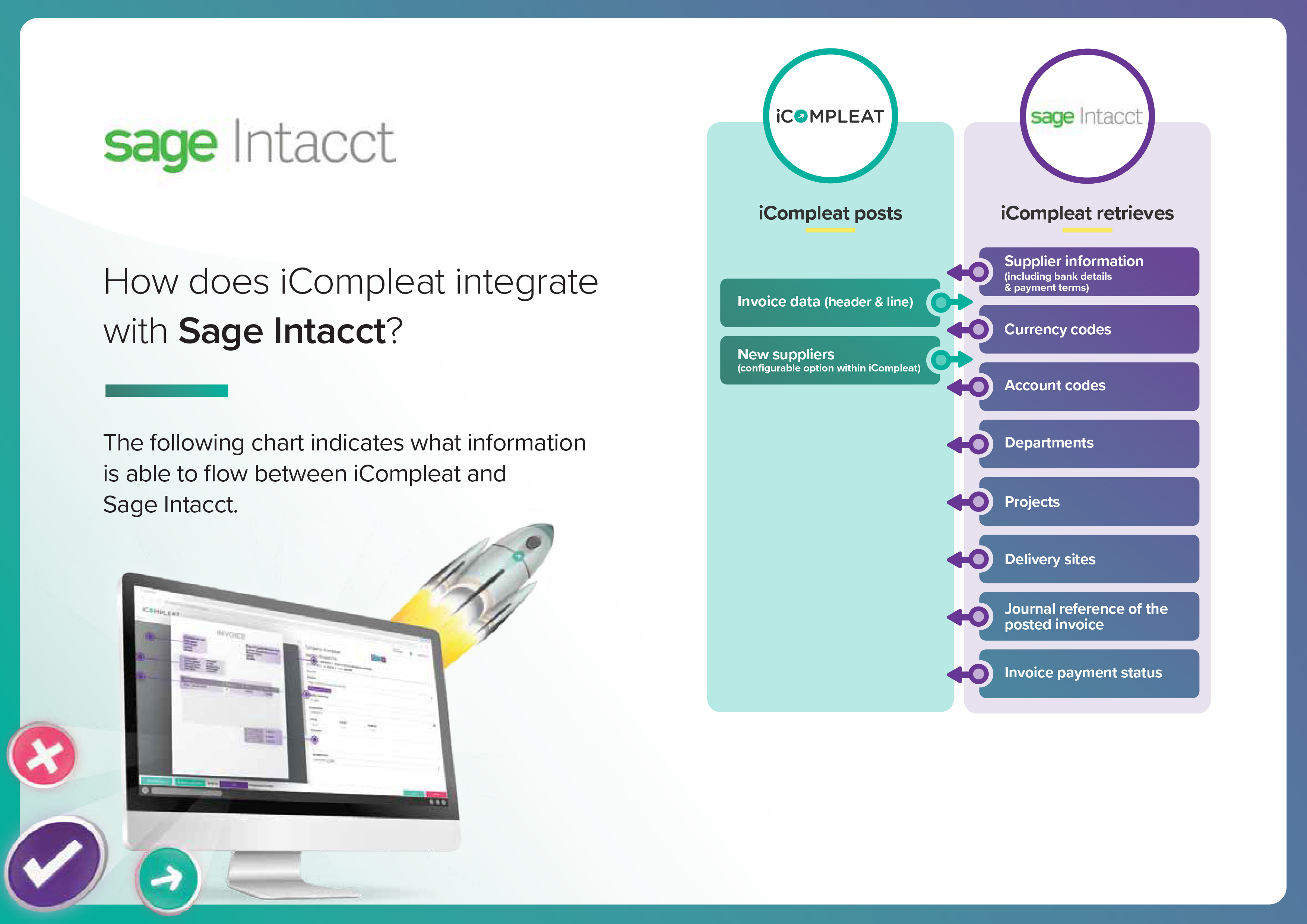 Features & Capabilities

Want to Learn More Detail? Download Fact Sheet and Contact Us Today!