If you are considering Sage 300 ERP for your company financials, chances are you are accounting for multiple entities. They could be related holding companies and subsidiaries, not for profits, or even commonly managed investment interests. If so, a well configured Sage 300 ERP system can make your multi-entity accounting tasks easier. Additionally, you will want your ERP data to be structured to make consolidated financial and operational reporting as easy as possible.
See The 3 M's of Accounting: Multi-entity, Multi-location, and Multi-currency.
Sage 300 ERP, a multi-entity capable system
Most modern ERP systems will allow for multiple companies, however, the right system can streamline the processes of multi-entity accounting and improve the accuracy of financial data by automating inter-entity transactions. Sage 300 ERP combined with Orchid Inter Entity Transactions Module provide an excellent combination for tackling for complex multi-entity requirements, especially when there is a need for any of these functions:
Automatically balance inter-company transaction using due-to/due-from accounts
Create inter-entity balancing transactions through intermediary companies using complex "routes."
Automatically trigger a "repayment" transaction from one company to another
Allocate a receipt to a customer in one company and have the receipt go into a bank account in another company
Process a payment against a vendor in one company and have the payment come out of a bank account in another company
Account for inter-company transactions in different currencies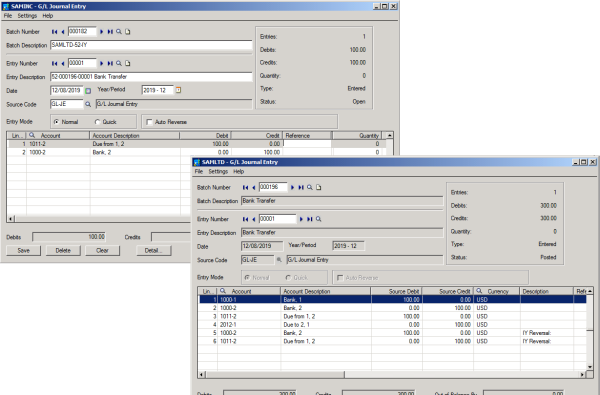 Orchid Inter Entity Transactions allows Sage 300 ERP users to utilize G/L accounts from different entities within the normal G/L and subledger user interfaces. Upon posting in the G/L, Inter Entity automates the additional accounting required to record loans and receivables across all companies.
Once your software has been selected, you may go about the business of configuring Sage 300 ERP for multi-entity accounting.
Choose whether to deploy a single database or multiple databases
The first issue that you should decide upon is whether to utilize a single database for all companies, or set up separate databases for each legal entity. There are a number of pros and cons for each approach, but here are a few issues to consider:
Single database advantages for multi-entity accounting
Eliminates the need to log into and out of companies; a big time-saver!
Makes consolidated/combined reporting a snap.
Single point of maintenance for new entities and G/L accounts and faster new entity setup.
Facilitates entry of inter-entity transactions from any subledger and is best when a high volume of such transactions takes place.
More flexibility in consolidated reporting.
Single database considerations for multi-entity organizations
Will you need to restrict user access to some company subledgers while allowing access to others?
Do all companies have the same fiscal year and closing schedules?
If the answer is "no" to either of these questions, multiple databases will be your best bet.
Multiple database advantages for multi-entity financials
Easier removal of G/L accounts when an entity is disposed or curtailed.
Allows for company-specific user authorizations.
Allows for differing fiscal periods within companies.
Allows for differing home currencies by company.
Design your G/L account structure and chart of accounts for multi-entity use
Regardless of whether you decide to use a single or multiple databases, creating standardized account structures, account groups, and chart of accounts is a must in order to keep your sanity. Additionally, adding an "entity" segment value as part of the account structure will enhance your ability to properly code inter-company transactions while retaining the company when reporting on combined operations. You'll want to make certain that all G/L account structures incorporate the segment. Placing the entity segment at the beginning of the structure helps make certain that users are mindful of the company they have selected. Once you have defined the entity segment values and the G/L accounts for one entity as a model, you can save a lot of time by using Sage 300 ERP G/L's Create Accounts UI to create the accounts for the remaining entities.
Additional recommendations and considerations for inter-entity transaction processing
Set up Multi-Company Distribution Codes in advance for use in payables, miscellaneous receipts, etc., as this will speed transaction entry.
Set up Multi-Company G/L allocation accounts with fixed percentage distributions to allocate expenses to other companies ratably.
Consolidated/combination reporting
As mentioned previously, you will have more flexibility in generating reports that cross company lines when using a single database, because all of the standard Crystal Reports, Financial Reporter specifications and Sage Intelligence report designs are based on a single database. If you plan to use multiple company databases, you will need to utilize reporting tools that allow combination of data from multiple databases. For instance, the Sage Intelligence Connector allows data from multiple companies to be incorporated in reports. Other viable options include using Analyst Data Warehousing from Global Software, as well as Sage's G/L Consolidations, which extract and combine transactional data in separate reporting databases.
Also, consider setting up an "elimination" G/L segment code with corresponding G/L accounts to enable the entry of consolidating eliminations and other top end adjustments as journal entries rather than encoding adjustments into financial reports or worksheets. This will make your reports reproducible in the future and provide an audit trail of the adjustments.
More information on Sage 300 ERP
More information on Orchid Inter Entity Transactions
Need expert assistance with identifying, implementing and/or configuring a multi-entity system? BTerrell Group can help you design and configure a multi-entity system that will save you time and effort. Contact us today for a free consultation.