BTerrell 2018 Quarterly Release 4 Luncheon, November 15, 11 - 1
What is Good Cyber Hygiene, and how do we practice it?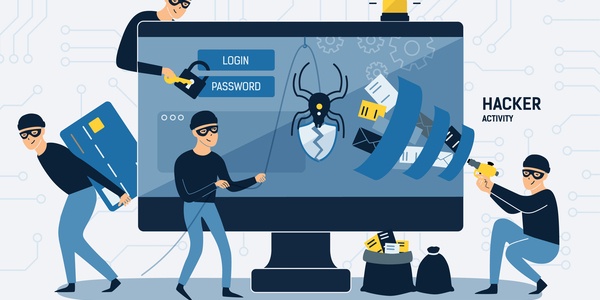 The biggest cybersecurity risks to US businesses are you and me...the employees. Some of our basic bad habits include:
Employee negligence such as accidental loss of a device (oops...I left my laptop at Starbucks!)
Poor passwords across all accounts (the 5 most popular passwords, according to Fortune magazine):

123456
Password
12345678
qwerty
123456789

Remote workers and their Internet connections (working from home without a password on my home router!)
Employee negligence is the main cause of data breaches, according to a state of the industry report by Shred-it, an information security company. The report found that 47 percent of business leaders blame human error, such as accidental loss of a device or document by an employee (oops...I left my laptop at Starbucks!), for a data breach at their organization. Over 1,000 small business owners and C-suite executives in the United States were surveyed online in April 2018 for this report.
In 2017, data breaches cost companies on average $3.6 million globally, according to a separate report from the Ponemon Institute. If that happened to your small to medium sized business, could you cover that hit to the bottom line?
Join us at the BTerrell 2018 Quarterly Release 4 Luncheon on November 15th when we will cover the basics and provide best practices on protecting you and your companies. With this knowledge, you become a "fighter" on the front lines in Cybersecurity, and this is a fight in which we all must take part.
Plus, now is the time to prepare to close the books in Sage Intacct. Since we all do this just once a year, it's good to hear the experts describe exactly what you should and shouldn't do. In addition, we'll take a brief look at once a quarter or once a year tasks that will increase your confidence around period end processing in Sage Intacct.
As always, we'll ensure you receive the information you need to take advantage of Quarterly Release 4, courtesy of Senior Consultants Chris Firra and Binbin Zhai. Also, you'll have an opportunity to chat with other Sage Intacct users while we enjoy a great meal and good conversation. Finally, if you are a CPA in search of continuing professional education, we'll check that box for two (2) hours credit, as well!
The schedule looks like this:
| | |
| --- | --- |
| 11:00 - 11:15 | Welcome |
| 11:05 - 11:10 | What's New in Quarterly Release 4! |
| 11:10 - 11:50 | Closing the year in Sage Intacct |
| 11:50 - 12:10 | BTerrell Lunch and Dessert |
| 12:10 - 1:00 | Good Cyber Hygiene |
Register on or before November 12th and receive the Early Bird rate of $50.
BTerrell looks forward to lunch with you!
---
Date: November 15, 2018
Location: Addison Campus, Abilene Christian University, 16633 Dallas Pkwy #800, Addison, TX 75001
Time: 11:00 am - 1:00 pm CT (yes...lunch is included)
Price: Register by November 12, 2018 - $50, after November 12, 2018 - $60
Register now for the BTerrell Quarterly Release Luncheon using the form on the right side of this page.
CPE information for the BTerrell 2018 Quarterly Release 4 Luncheon on November 15, 2018:
Objective: To understand the functionality provided by Sage Intacct 2018 Release 4
Prerequisite: None
Experience Level: Any
Advance Preparation: None
Teaching Method: Classroom presentation and moderated discussion
Recommended Credit: 2 hours