What is ABCs? 3 Reasons Healthcare Organizations Should Adopt Activity-Based Costing Now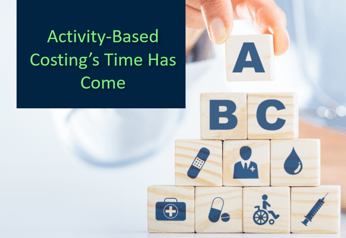 As healthcare finance executives, do you truly understand the true costs of patient care? The costs of the care are not just the costs between healthcare organizations and patients, but it also includes the overhead such as maintenance fees and other operating costs. To achieve long-term success, healthcare providers must consider the actual cost of their services. Let's introduce activity-based costing, also called ABCs, which allows you to compute the actual cost and understand the cost structures effectively.
Why should healthcare finance executives adopt activity-based costing now?
Three main reasons to utilize ABCs for healthcare organization:
1. The U.S. healthcare system is moving to ACOs and other value-based care
To manage well the financial risk from a hospital's or an ACO's value-based-care contracts, healthcare organizations will need to understand and forecast their costs to control the budget and avoid potential losses. Healthcare finance executives can calculate the actual cost of services, supplies, and other operational areas on a per-case basis under the model of activity-based costing.
2. COVID-19's financial impact on healthcare organizations
Over half of U.S. healthcare providers are operating at a loss, and their financial predicament is expected to worsen as the pandemic continues. To address this pressure, healthcare finance executives will be forced to scrutinize their cost structures. By utilizing activity-based costing, healthcare organizations can get detailed cost analysis and improve their cost structures.
3. Consumerism and competition may lead to price war due to upcoming consumer price transparency
Since the U.S. government's emphasis on increasing price transparency in healthcare, the patients will soon gain their buying power in the open healthcare market. The price war may start between the healthcare providers as consumers will have the ability to shop around and compare for lucrative procedures such as knee replacements. Healthcare providers should use ABCs to get an accurate picture of their underlying costs if this transparency forces them to cut charges to meet the competition.
It is time for healthcare organizations to embrace the model of activity-based costing due to the impacts of value-based care, price transparency, and pandemic. With the help from ABCs and the right financial system, even smaller hospitals, physician groups, and PAC providers should be able to make this transition without undue strain on their resources.
BTerrell Group works with healthcare companies to strengthen and simplify all aspects of their financial health. We helped Epiphany Dermatology seamlessly manage growth from seven locations to 50 clinics across 10 states with the cloud-based financial management solution - Sage Intacct. Check the case study and learn more: Epiphany Dermatology - Case Study.pdf.
Let's make sure you have the right systems to best manage your organization. Contact us at 866-647-2611 and download the complete "Activity-Based Costing's Time Has Come".