Congratulations to Intacct for receiving distinguished recognition as the top performer in the Winter 2016 Accounting Software Grid report. In "The Best Accounting Software According To G2 Crowd Winter 2016 Rankings," posted on G2Crowd.com, the Accounting Software Grid Report is a compilation of over 650 reviews of approximately 110 products listed in G2 Crowd's accounting category.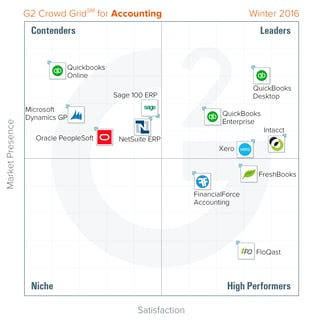 The products that received ten or more reviews were included in the ranking process. Intacct earned the highest overall satisfaction score, and for good reason. This popular accounting solution can be deployed quickly and offers flexibility for customizations for unique business needs. Intacct also offers real-time visibility into business performance, which you can then leverage to your competitive advantage. With a high return on investment and a low total cost of ownership, Intacct is the ideal solution for businesses that need more than basic accounting software. Cheers to Intacct! This recognition is well deserved. Contact BTerrell Group for more information about Intacct and how this powerful financial and accounting system can support your business today and support continued business growth.
By Brian Terrell of BTerrell Group, LLP, Intacct and Sage ERP & CRM provider based in Dallas.