BTerrell now offers a great financial planning tool, Adaptive Insights. I have about three years experience using Adaptive and I also have experience using Hyperion Planning and Host Analytics, so I have some experience with different products out there. Out of the three budgeting applications I have used, I believe Adaptive is the best. Adaptive is easy to use, requires no IT help, and allows for great collaboration across your company when doing your forecasting and budgeting.
Adaptive Insights offers more than just a budgeting solution under their umbrella. Their products are Planning, Discovery, Consolidation, Reporting, and Integration.
Planning provides you comprehensive budgeting, planning, and forecasting. Planning is very intuitive and has an "Excel-like" feel that makes for an easy transition for anyone currently doing their budgeting and forecasting in Excel.
Discovery is Adaptive's dashboard module that provides visual insight into your financial data for analysis.
Consolidation is used to consolidate all of your financial data in one place that includes journal entry management, intercompany eliminations, account reclassifications, and even collaborative close process management.
Reporting provides comprehensive financial, management, board, and transactional reporting that allows for variance reporting between your budget/forecast and your actuals along with building your whole monthly financial reporting package. Reporting is an easy drag and drop interface. OfficeConnect is a new offering from Adaptive that allows you to retrieve data for reporting straight to Microsoft products Excel, Power Point, and Word.
Integration connects on-premise and cloud investments to your Adaptive suite through connectors.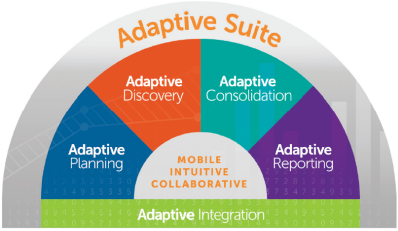 BTerrell offers several services with Adaptive Insights as well as the product. For more information on our services, click here.