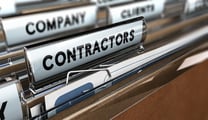 When is a worker an employee or an independent contractor? As discussed in "Uber's Legal Setback Casts a Long Shadow Over the On-Demand Economy," posted by Jeff Bercovici on Inc.com, Uber would have you believe that their drivers are providing a service using Uber as a neutral platform. They work when they like, as many hours as they desire, and can charge what they want. However, Uber has provided guidance on how much drivers can earn through their app-based service and focuses on those drivers working 40 or more hours per week. Which may be why the State of California Labor Commission has determined that those drivers should be treated as employees, not independent contractors, which could put a big dent in Uber finances. While Uber appeals this decision, other on-demand businesses could face similar pressures to attract new customers, contractors, and financing. On-demand businesses may have to reevaluate business models to include Social Security and unemployment taxes on wages, which can impact their bottom-line.
On-demand and other businesses facing uncertainty in the marketplace can gain control and insight with the support of modern technology. Contact BTerrell Group for more information about navigating these and other business disruptions with the support of agile, flexible, and reliable technology.
By Brian Terrell of BTerrell Group, LLP, Intacct and Sage ERP & CRM provider based in Dallas.