Webinar: Closing the performance gap with Ventana Research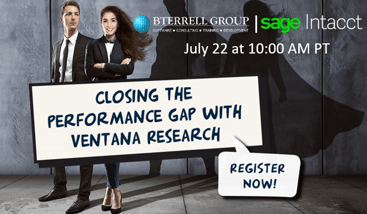 Plenty of midsize organizations are teetering on the cusp of greatness, but just can't quite figure out how to reach the next level. One way to give your organization the extra nudge it needs? Embrace change and take your accounting capabilities to the next level.

Register now for our newest webinar on Thursday, July 22 at 10am PT / 1:00pm ET, Closing the Midsize Performance Gap. Register below to save your spot for the webinar, and we'll also send you your own Sage Intacct Finance Superhero Kit!

Ventana Research's Robert D. Kugel and finance experts from Children's Hunger Fund and Vitamin Angels will discuss:
● How to tell when it's time to move on from your entry-level finance system
● The 5 signs that your current operations are limiting your results
● What your organization needs to compete with larger companies

Help your business grow to its full potential—register for the webinar and receive your own Sage Intacct Finance Superhero Kit!