Four ways cloud financial management software keeps finances healthy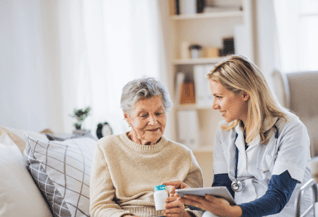 Integrating a healthcare organization's multiple entities in a unified set of financials is challenging and complex. The traditional approach to consolidation combines old fashioned manual labor, semi-structured processes, and an unwise reliance on Microsoft Excel to bring together data and information. Unfortunately, even with the best efforts and communication, manual consolidations are time-consuming and error-prone — yet 58% of companies continue to use this method.

Healthcare organizations need a smarter way to consolidate their financial results, to support the industry's fast pace and competitive climate. Cloud-based financial management software can be that better way, offering four areas of critical functionality that traditional, on-premises systems lack.
1. Scalable foundation enables automation
Healthcare firms often add virtual and physical entities to their corporate structures. However, on premises solutions struggle to add and manage new entities and across geographic jurisdictions. A cloud-based financial management system allows all business units to share the same system, same chart of accounts, same financial reports, and same master data tables, driving significant productivity gains. It also creates a shift in mindset and positions finance teams to add value to information, not simply report on information.

2. Agile processes help ramp up new entities quickly
A turnkey cloud financial management application gets systems and processes up and running quickly and can rapidly extend as new entities come on board. It also helps standardize workflows across entities, making it simpler to manage and monitor financial data.

3. Fully integrated consolidation processes
A cloud financial management system centralizes the setup and management of inter-entity relationships. When you rely on one single system to house organizational data, you can automate the elimination and consolidation entries, saving time and improving accuracy.

4. Clear insight
Cloud-based financials eliminate the gaps between the consolidation and the data. The result is real-time consolidated financial information — available at the push of a button.

The Vital Stats
The healthcare industry is in a constant state of flux. To succeed in a fluid marketplace, your organization must quickly scale to incorporate new entities, pivot to adapt to changing regulations, and swiftly adjust strategies and operations in response to performance trends.

BTerrell Group works with healthcare companies, ranging from small medical practice groups to more extensive combined healthcare operations, to strengthen and simplify all aspects of their financial health. Our recommendation for healthcare organizations is the cloud-based financial management solution Sage Intacct. Sage Intacct helps healthcare organizations save time, improve accuracy and grow their operations without increasing their administrative staff.

Together, BTerrell Group and Sage Intacct helped Epiphany Dermatology seamlessly manage growth from seven locations to 50 clinics across 10 states. And the organization was able to improve their overall efficiency in accounting and finance by five-fold, avoiding the cost of two to three employees. It's this type of success that we strive for with every client.

We invite you to contact us at 866-647-2611 with your questions and download the complete Financial Consolidations for Multi-Entity Healthcare Organizations white paper.