Compliance with the Affordable Care Act (ACA) will require time and energy from your human resources team. Time that will be diverted from other important tasks. Maintaining compliance is critical for avoiding noncompliance penalties; however, the ACA doesn't have to be a disruption to your company's overall goals and strategic plans.
If you aren't sure where to start with ACA reporting, you aren't alone. A toolkit to guide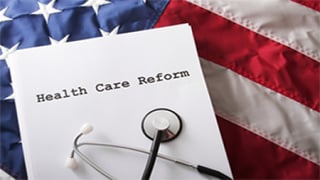 you through the process is included in "Complying with and Leveraging the Affordable Care Act," posted on SHRM.org. Most human resources (HR) departments will play a large role in ACA compliance including employee notification, summary of benefits and coverage, and IRS reporting obligations. There is also a strategy to be considered. For example, the 'pay or play' strategy whereby businesses can consider providing the appropriate health benefits or paying the penalties for not offering those benefits. The C-suite and HR team may discuss key questions such as what is your organizational strategy and does a strategic plan guide the organization? What is the total rewards strategy – benefits and direct compensation? What roles do HR and health benefits play in these strategic plans? Having a strategy is important, not only for maintaining regulatory compliance, but also when evaluating employee recruitment and retention. Considering which benefits you offer, the costs for those benefit programs, and whether employees will be eligible for or choose them, can have an impact on the culture of your workplace, turnover, and whether you have the skilled talent you need to be successful.
A robust human resources management system can provide a solid foundation for managing benefit programs and maintaining compliance with ACA. You can monitor the costs of plans, employee-centric information, and the data needed for ACA reporting with greater efficiency and accuracy. Streamlining these processes can save valuable time and money when devoting attention to ACA issues.
Once you answer the tough questions presented in the SHRM article and have a strategy, you can then develop and implement a plan to meet those organizational goals, comply with ACA requirements, and protect profit margins. Contact BTerrell Group to discuss your HR strategies, navigate the ACA legislation, and put the processes in place that protect your business, your employees, and your bottom line.
By BTerrell Group, an Intacct Premier Partner and Sage ERP Partner
Keywords: Affordable Care Act, human resources team, ACA reporting, ACA compliance, human resources management system, managing benefit programs and maintaining compliance with ACA, data needed for ACA reporting, comply with ACA requirements, analyze your HR strategies, navigate the ACA legislation, Intacct Premier Partner, Sage ERP Partner