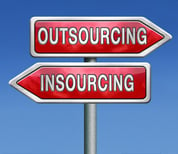 On-demand businesses like Uber and Shyp have turned the traditional business model upside-down while satisfying consumers insatiable need for instant goods and services. However, Shyp, a San Francisco startup that offers on demand pick-up, packaging, and shipping services has decided to hire their couriers as employees, instead of treat them like third-party or independent contractors. As indicated in "Shyp Makes Couriers Employees Before It's Too Big To Change," posted by Davey Alba on Wired.com, Shyp has indicated that this move is intended to develop long-term relationships with couriers, which can improve the customer experience. Shyp also decided to provide couriers with additional supervision, training, and other guidance which can only be done successfully with employees.
Acting fast as pressures mount for on-demand businesses, Shyp can better position their business should the contractor vs. employee confusion be decided in the near future. Changing their business model now can provide greater control as Shyp grows and provides a positive business image. Contact BTerrell Group for additional information about how you can gain control and insight of your business operations even with changes like this on the horizon, while providing a superior customer experience, with the support of modern technology.
By Brian Terrell of BTerrell Group, LLP, Intacct and Sage ERP & CRM provider based in Dallas.