Your company may show signs of success with a long list of happy customers and products in high demand. However, do you know what you do well? Could it be your product quality or customer service team, your price structure or reliable delivery, or other value-added services all-together? Replace disparate management systems with an enterprise resource planning (ERP) solution to tap into your business drivers, add new initiatives, and boost profits.
Businesses using disparate specialty software often struggle to get a big-picture view of their operations. Data is isolated in accounting systems, inventory or sales programs, and other key data is scattered amongst spreadsheets and paper-based files. Combining such different data sets is time-consuming and drawing straight lines between correlating data is nearly impossible. If you can't access reliable, meaningful data, then how do you really know whether business is going well and how can you make improvements? In short, you can't.
To get a holistic view of your corporate health, as well as the productivity or profitability of specific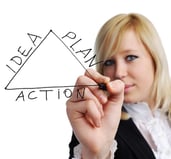 business sectors, you need an integrated ERP solution, such as Sage® ERP. You can manage each of the moving parts of your enterprise within Sage ERP including finances, supply chain and inventory, manufacturing or distribution activities, as well as human resources operations. Centralizing your data makes it easier to enter, access, and analyze. Sage ERP offers many time-saving automations and right from the start, you improve the productivity of your team. Managers can monitor key metrics, in real-time, using dashboards and other visualizations, and follow trending data. Monitoring sales, for example, you may find that certain products are selling faster than others. Making correlations with other data, you may notice seasonal fluctuations that can influence production or labor decisions.
Now that you can monitor your data, you can define strategic goals and use business intelligence features to reach those goals. Whether you choose financial or sales goals, sustainability initiatives, or identify ways to reduce risk, you can use the data within Sage ERP to set the course and stay on the right track. Learn what drives your business and use Sage ERP to identify new initiatives and boost profits. Contact BTerrell Group for guidance with replacing outdated systems with modern business solutions to optimize your business and reach new goals.
By BTerrell Group, an Intacct Premier Partner and Sage ERP Partner
Keywords: enterprise resource planning, ERP solution, Sage ERP, time-saving automations, improve the productivity of your team, monitor key metrics, define strategic goals, business intelligence features, Learn what drives your business, identify new initiatives and boost profits, optimize your business and reach new goals, Sage ERP Partner