Just as human resources and payroll departments are churning out paperwork for taxes,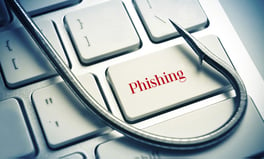 upcoming Affordable Care Act (ACA) reporting obligations, and other important financial documents, there is a rise in phishing scams. It's not a coincidence, it's perfect timing. According to "IRS Alerts Payroll and HR Professionals to Phishing Scheme Involving W-2s," posted on IRS.gov, the Internal Revenue Service (IRS) has issued an alert to payroll and human resources professionals to watch out for a new email phishing scheme that looks like an important email from your CEO requesting employee information. One phishing email reads "Kindly send me the individual 2015 W-2 (PDF) and earning summary of all W-2 of our company staff for a quick review."
With tax reporting at the top of the priority lists, it may not seem out of the ordinary to share important documents with upper management. However, the IRS strongly suggests double-checking with the email sender to verify it isn't a 'spoofing' email. Your employee's social security numbers and other private information is on the line and cyber-criminals are using this information to file fraudulent tax returns. The IRS reports that several victims have already been identified due to payroll and human resources offices mistakenly emailing payroll data to cybercriminals that have posed as company executives. Don't be the next victim, take extra precautions to protect employee and corporate data. Contact BTerrell Group for additional guidance with deploying today's technology to streamline financial reporting and adding security measures to protect private and proprietary data.
By BTerrell Group, an Intacct Premier Partner and Sage ERP Partner