The Financial Accounting Standards Board (FASB) will release an accounting standards update beginning in 2017 which brings to light new questions and concerns about managing revenue gaps and discrepancies. Will you be able to account for what this new update is requesting?
According to the "Revenue Recognition" section posted on the FASB website, the intended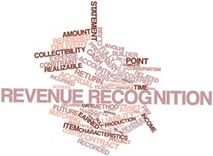 update is based on this core principle: "Recognize revenue to depict the transfer of promised goods or services to customers in an amount that reflects the consideration to which the entity expects to be entitled in exchange for those goods or services." The FASB also offers five steps for achieving that core principle, which businesses will need to implement very soon. As revenue recognition becomes more complicated, it may be time for businesses to replace entry-level accounting software and manual processes with stronger technology. Contact BTerrell Group for information about using Intacct Revenue Management Software to maintain compliance with these new processes, as well as gain control over financial and operational outcomes.