Recently, we invited our local Sage Intacct clients to lunch and a discussion on the latest version of Sage Intacct's award-winning cloud financial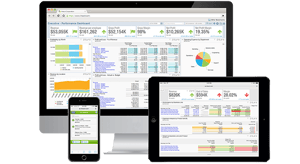 management software—Sage Intacct 2018 Release 4. Sage Intacct continues to deliver additional functionality at a consistent pace – so consistent, in fact, that keeping up with it can be challenging. So, we work together with Sage Intacct and our customers to ensure we talk up new functionality in an end-user friendly way. That way, new features that can make an immediate positive impact get the visibility they deserve.
The highlights of Sage Intacct 2018 Quarterly Release 4 include:
Sage Intacct Budgeting and Planning
To achieve business goals, companies need financial budgeting and planning that's effective, collaborative, and strategic. Spreadsheets work great when a business is small and uncomplicated. But, as it grows, so do the needs for collaboration, security, and scenario planning. Unfortunately, until now most budgeting and planning solutions have been built to handle the needs of large companies. Budgeting and planning systems built for larger companies require big company budgets and resources to deploy, integrate, and maintain. This makes them unsuitable small to midsize organizations.
Sage Intacct Budgeting and Planning is a modern cloud solution built for small to midsize businesses. It's powerful, yet easy to use and deploy. Here are some of the benefits:
Fast deployment – Use your chart of accounts, dimensions, and actuals from Sage Intacct to get up and running in a few days.

Collaboration across the organization – Easily work with department heads on a common version of the budget and securely share departmental budgets and details.

Seamless workflow with financials – Get actuals from your financials into your budgets and plans with just a few clicks.
Interactive Custom Report Writer
Operational reporting allows organizations to manage every day needs ranging from tactical execution to strategic decision making. For instance, one might need to pull a list of invoices for a customer or track employee time on projects. Release 4 introduces the new Interactive Custom Report Writer, a modern visual reporting tool, that delivers ease and speed of report creation, an enhanced user experience, and the power to address complex reporting needs.
With this new module, one can build basic reports quickly and easily with live report data, hierarchical field selection, drag and drop, and automated formatting of subtotals. Data is personalized to individual visibility and permissions.

The modern look and feel pleases users. The reports are easier to consume with aggregated and summarized information and conditional formatting to draw attention to important data. Interactivity enables users to drill, pivot, filter, sort, and expand for more precise answers to their business questions.

Users have new levels of power to address complex needs with advanced features such as calculated columns with calendar and math functions, conditional logic with case and if statements, rolling sums and aggregations, and pivot tables.
Dynamic Allocations
Allocating indirect revenue and expenditures, such as facilities or shared services, enables decision makers to get a more accurate understanding of the performance of departments, products, projects, or other key dimensions of a business. Sage Intacct has long had transactional allocations that allow one to spread payments, receivables, or general ledger transactions as they enter them. But, to spread the amounts after the transaction was already complete, one had to gather the amounts to be spread and create an often-lengthy journal entry. These calculations were often done in spreadsheets outside of Sage Intacct, making it challenging to go back and understand the initial amounts and the method used if the backup data wasn't attached.
With Release 4, client companies can generate allocations based on cumulative activity. With the new Dynamic Allocations module, users set up the source pool, basis (allocation method), and the target one time. Then for every period after, a simple press of a button dynamically generates them. They're consistently processed every time, right inside of Sage Intacct. And, a verification page provides snapshots of the before and after for transparency into how the allocations were processed and their impact. So, everyone saves time on close activities, reduces errors, and streamlines audits.
Inventory Landed Costs and Replenishment
Whether one works in wholesale distribution or maintains inventory to serve clients, knowing the value of that inventory is essential to understanding an organization's financial health. With Landed Costs, Sage Intacct users can calculate value based on specific business requirements and capture added costs such as shipping or value adds so that companies can get to a true cost of goods.
Maintaining healthy inventory levels requires a balance between serving customers and avoiding tying up excessive capital. In Release 4, Sage Intacct manages inventory across multiple locations and warehouses while using Inventory Replenishment to automate reorder policies by inventory levels and seasonality.
Revenue Recognition for Nonprofits
Nonprofits with revenue streams that cross over year-end or advance payments need to be mindful of the ASU 2018-18 accounting standard changes pertaining to revenue recognition. For example:
Conditional grants – non-profit organizations need to plan how to track deferred vs. recognized revenue as conditions are met.

Events, tuition or dues that cross fiscal years – allows users to correctly state deferred vs recognized revenue at year end.

Some nonprofits are actively trying to change their policies on collecting revenue to avoid dealing with the new standard because it is viewed as cumbersome. For example, they structure the sale of memberships or tuition so that they are only for the current year. But that might not be optimal for operations. Other organizations plan to track everything in external spreadsheets and then convert them into large year-end journal entries. This decreases your efficiency and increases the risk of error. It may also result in added time and increased cost during the audit process.
Release 4 introduces Nonprofit Revenue Recognition. The new module automates revenue recognition for the different revenue streams received and centralizes tracking inside the accounting system. Users can automate revenue recognition inside of Sage Intacct without the need for external spreadsheets. Also, client companies can collect revenue up front across fiscal years without the fear of extra work. Coupled with Grant Tracking and Billing, it's easy to track progress on conditions required for recognition of grants. Consistent treatment of revenues by source will reduce errors. And with everything documented in one place, reporting to management, the board, and auditors is dramatically simpler.
Summary
Sage Intacct's 2018 Release 4 includes another blockbuster list of functionality improvements. My favorite is the Interactive Custom Report Writer followed closely by Sage Intacct Budgeting and Planning. However, the release packs in something for everybody. If you missed the most recent BTerrell Quarterly Release Luncheon on November 15th or just want to discuss this release further, please don't hesitate to let us know at support.bterrell.com!