How it works, and what to do when it doesn't
With nearly 70 percent of adult Americans doing at least a portion of their banking online, we've come to take the technology behind the scenes for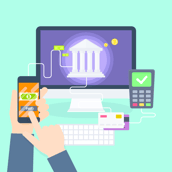 granted. That technology network, called Automated Clearing House (ACH), has been busy for more than 40 years. In 2015 alone, the network processed nearly 24 billion transactions with a total value of $41.6 trillion.
An ACH primer
Just what is ACH? So as not to risk sending you straight to sleep, I'll just hit the highlights here. As the Originator, you (ok, your computer) create a file in the ACH-specified format containing the who, how much and when of the payment transactions you initiate. Your bank collects that file, aggregates it with other files it receives, and then passes the file off to an official ACH clearinghouse. The clearinghouse debits or credits your account and then makes the appropriate transactions available to the receiver's bank who in turn makes it available to the Receiver (your vendor).
It's efficient, secure and cost effective
Electronic payment processing is an efficient, secure and cost-effective way to send and receive money – that's why so many of us use the technology to pay our personal expenses. And while the typical American now pays only one-third of their bills by check, most businesses continue to complete more than half their transactions that way – and it's costing them. Between preparation, approvals, postage, and the costs of dealing with occasional fraud, a business has to spend $5 to $25 to issue a paper check, compared with $1 to $2 for the same payment made electronically.*
If you're already using the ACH capabilities in Intacct, good on you. You are saving the hassle and the costs associated with printing and mailing paper checks, and benefitting from the additional security that comes with eliminating paper. But in an increasingly global world, you can expect to run into difficulties if you want to make similar electronic payments to customers in other parts of the world.
Taking ACH beyond borders
The ACH payment network works because it has standardized the process though the use of a prescribed file format. You give a bank a file in the correct ACH format – it works. Unless it doesn't.
ACH is a North American standard and many foreign banks – plus a few U.S.-based banks – have established their own proprietary formats. Send one of these banks an ACH file and they'll reject it.
Perhaps one day there will be a global file standard, but until then, there's EFT Manager, a global electronic funds transfer solution from BTerrell. With Intacct and EFT Manager, you can send electronic payments to your vendors through any financial institution, anywhere in the world.
Curious about ACH transactions in Intacct or about EFT Manager? Contact us with your questions.
*According to researcher Chrone Consulting
By BTerrell Group, Texas- based Intacct Partner