In today's diverse business world, most companies don't have a cookie-cutter approach to how they bring in revenue. Companies have multiple levels of services, licenses and products they're providing for clients and let's just say the spreadsheet approach is no longer cutting it!
As noted in "Gearing up for Growth: Moving Beyond Spreadsheets and Desktop Accounting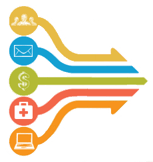 Software to Revenue Management," posted on RevenueRecognition.com, many technology-based companies offer time-based licenses and perpetual licenses, some sell subscriptions for managed services, and many also provide consulting services, maintenance and sell software or other services. With so many different contracts to manage, each with varying billing and revenue management scenarios, spreadsheets can be a very dangerous way to capture and manage such key data. Spreadsheets get lost, mistakes can be made and data can be lost or corrupted. Not to mention the redundant data entry that wastes valuable time.
Replace risky spreadsheets with an accounting solution that can manage multiple contract processes, subscription billing, and other complicated revenue processes. Intacct® offers a powerful financial management solution with a number of modules that can address each unique revenue process. Contact BTerrell Group for more information about how Intacct can replace your spreadsheets with a more efficient management solution as well as get your company ready for ASC 606 – Revenue from Contracts With Customers.