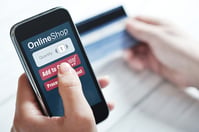 Technology is advancing quickly and feeding consumer demand for prompt delivery of goods and services. The more consumers rely on smartphones and tablets, the more businesses can respond with an efficient on-demand model. The on-demand economy is already changing the way people connect with businesses, obtain goods and services, and has the potential to create jobs – all with great speed and ease as the technology continues to advance. As indicated in "The 'On-Demand Economy' Is Revolutionizing Consumer Behavior – Here's How," posted by Mike Jaconi on BusinessInsider.com, customer behavior is clearly responding to these technological advances. Consumers expect quick, simple interactions online, to purchase anything, at any time, with their mobile devices.
Get in on the on-demand business model by reevaluating your own business solutions. Contact BTerrell Group to learn more about the modern technology that you need to improve customer interactions and drive business growth.
By Brian Terrell of BTerrell Group, LLP, Intacct and Sage ERP & CRM provider based in Dallas.