The pricing and financing options presented to ERP application prospects continues to expand.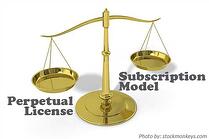 When I first began working with ACCPAC Plus for DOS way back in 1991, the only item on the price list was a perpetual license, and most modules were priced at $795 apiece. A perpetual license requires only a one-time payment for the current version, and publishers would price subsequent upgrades at 50% of the then current version price. So, my early quotes for a really simple system including only Windowing System Manager, General Ledger, Accounts Payable, Accounts Receivable and one LanPak would total about $3,750. The biggest complication in quoting involved the calculation and inclusion of sales tax, which should tell you that quoting was really easy.
Not anymore. The options have expanded beyond perpetual licensing to include new options such as subscription pricing, hosted pricing, and software maintenance.
Subscription Pricing
Subscription pricing allows perpetual license publishers to "rent" a time limited license to use their software. The annual subscription price may range from 25% to 35% of the perpetual license price, and that should include any software maintenance charges that might be otherwise required. The software itself may enforce the licensing by checking against a subscription server every once in a while to ensure the subscription is paid up. If not, the software goes into "nag" mode to remind the user that, unless a new subscription is acquired, the software will soon quit functioning. That's the same collection policy employed by the electric company, and it is an effective one, indeed!
Hosted Pricing
Hosted pricing extends subscription pricing to include managed hosting services. In managed hosting services, a data center provides the hardware, software, connectivity, power and fault-tolerance on which the subscribed software will operate. This adds to the price but is often more than offset by eliminating management costs of on-premise deployments. Moreover, clients outsource the heat, noise and power consumption of all that hardware running in the closet down the hall. Many gladly make that trade.
Software Maintenance
Software maintenance is also a subscription, or periodic charge, exchanged with a publisher for the continued enjoyment of the software. In exchange for software maintenance (which annually equals between 20% and 25% of the perpetual license price), the publisher will upgrade their offering so that it continues to operate on changing hardware and upgraded operating systems. In addition, publishers invest proceeds from software maintenance subscriptions into additional features and functionality in a never ending effort to keep up with the competition. Independent business partners thought the world was ending when software publishers introduced software maintenance back in the 1990's; however, today the sun still shines and most have grown accustomed to the charge.
Perpetual Licenses
Cloud based publishers cannot offer their software as a perpetual license. However, on-premise publishers often offer their software on either a perpetual or subscription basis. Perpetual licenses cost less than "rented" software, however, cloud publishers must add hosting costs to their price. The circumstances of every situation determine how the options compare to each other over time.
What is Right for You?
An experienced business partner can help determine at what point in time one is likely to "break even" between the two. That calculation is not entirely uncomplicated, as software maintenance, hardware costs, personnel costs, utility costs, upgrade costs, and continuing support costs all must be considered.
Pricing software continues to evolve into more and more complicated options. Who know what they'll think of next! To fully compare the various ERP investment options with your needs, please let us know! We'd love to talk it over in further detail!