In short, more cash flow, happier customers, and a happier you! Manual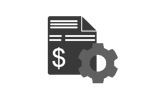 methods of billing customers is time-consuming and can lead to mistakes which are sure to frustrate customers, not to mention your employees. Replacing disconnected systems with an integrated solution, such as Intacct Revenue Management, can streamline the entire process.
Armed with Intacct Revenue Management, you can automate billing, make subscription changes with ease, and improve revenue recognition with Intacct Revenue Management. With the time-saving automations built within this solution, you can reduce churn, handle upsells and downgrades, and modify contracts easier than when using manual processes. Contact BTerrell Group to learn how you can save time, reduce frustration, and improve customer service, by deploying a management solution that can automate complicated billing processes.
By BTerrell Group, Texas Intacct ERP Partner