Why your next financial system should be cloud-based? Financials face-off: On-premise vs. Cloud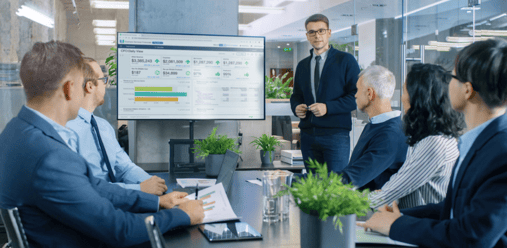 The speed of business is faster today than ever before. Business is also more complex, often involving multiple entities, global operations, and complicated billing structures. To succeed, finance professionals need instant access to financial information to make smart, strategic decisions. Cloud-based financial management applications are uniquely capable of driving today's business forward in today's always-on, always-connected world, which is why your next financial system should be cloud-based.

Stodgy and inflexible versus modern and agile
Yesterday's old-fashioned, on-premise financial management applications aren't flexible or scalable enough to support modern businesses. Nearly all, including Quicken, Microsoft Dynamics GP/NAV, SAP, and Oracle have been around so long they predate the Internet! With older, on-premises applications, you can expect:

• Spiraling overhead costs
• Expensive upgrades
• Functional limitations
• Costly customizations to gain functionality
• Duplicate data entry from disparate applications
• Unnecessary security risks
• Requires IT staff to maintain
• Remote access not native

Cloud-based financial systems are agile, powerful, and designed to run at the speed of today's business. Sage Intacct, for example, was designed from the ground up for online delivery. With cloud-based financial systems, you can expect:

• Deployment in weeks, not months
• Monthly or quarterly updates — delivered automatically
• Streamlined integration using APIs
• Minimal IT resources required
• Flexible configurations replace expensive customizations
• Anytime, anywhere access

The results are in
With speed as a guiding factor to winning business globally, businesses need more from their financial systems than ever before. Cloud-based financial applications can deliver the necessary speed and agility — as two of our clients can attest.

One of BTerrell Group's clients, Certus Energy Systems is a real-life example of how switching to a cloud-based financial application can yield significant benefits. Since switching from QuickBooks to Sage Intacct, Certus shortened its financial close from 15 to 10 business days, slashed report preparation from a week to just minutes, and cut a day from the A/P process every week — even as its transaction volume nearly tripled.

Another BTerrell Group client, Vaquero Midstream shares that the software paid for itself in less than two months on business value alone. They've also gained visibility into their operations that help them make informed and strategic business decisions.

As you shop for the best financial management software for your organization, we urge you to consider a cloud-based application like Sage Intacct. Learn much more about the advantages waiting for you in the cloud in this white paper, Financials Face-Off: On-premises vs. Cloud.