Guest blog post
by Justin Velthoen, Supply Chain Implementation Engineer
QStock Inventory by MSA Systems, Inc.

When we begin investigating Inventory Control Systems and Warehouse Management Systems, many times we focus on business processes. The real value of the Systems is often the visibility across departments to all aspects of the business, and the reports that get produced to help make critical business decisions.
Any solution you put in place should integrate to keep data up to date across your business, and make it easy to extract information so you can make those decisions with confidence.
Potential Reports for Your Warehouse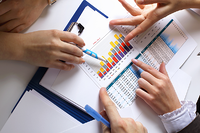 Warehouse Utilization – Know how effectively you are utilizing your space
User Activity – See who in your business is working the hardest, and most accurately
Slot Optimization – Taking into account velocity, size, and weight; re-organizing the warehouse for efficiency, and to reduce damage.
Reorder Reporting – Get suggested reorder amounts that take into account current on hand values, min/max by warehouse, open purchase orders, sales orders, and work orders.
Traceability – Being able to detail the receipt of the raw materials, the work order on which they produced a finished good, and the delivery to the end customer. Many big stores are requiring this auditing before allowing products in their doors.
What decisions can your data help you track? Most importantly, does your current solution allow you to get the information you need out?
Garbage In - Garbage Out
The more data you track, the more valuable the reports you can create. There is always a cost for each data point, so we usually want to look at the Return on Investment of each. We can definitely account for each latex glove as it is used in the doctor's office, but tracking it is far more costly than keeping excess on hand.
When I say "costly to track" there is the direct labor cost of tracking each piece, but there is also another cost that often goes unnoticed until too late: the cost of staff NOT doing the activity.
While we get better data the more complex we make the system, we run the risk of the employee seeing an easier way, and working around the system.
When we don't collect good data, the reports we generate lie to us. Your solution should work smoothly within your processes and let you get your data out easily.
We will be going over the critical questions you need to ask as you choose an Inventory Control System and show you how QStock Inventory can help you achieve your data-driven goals!
Note from BTerrell Group:
QStock Inventory is inventory management and control software that integrates and works extremely well with Intacct. To learn more, please view our on-demand
BTerrell Group webinar: Inventory Management with QStock Inventory
and/or
contact us
to learn how we can help implement and integrate QStock Inventory to help you get the best ROI from your inventory management software!