An on-line version of Sage 300 ERP has now been available for over ten years. Side-stepping the semantic question of whether Sage 300 Online is truly a "cloud application", it is certainly a true statement that the on-line application has been since its inception a hosted version of the award winning on-premises accounting software, offering all of the same functionality. Because it is remotely accessible using a MS Windows computer and internet browser, it offers all of the benefits of a SaaS-based, cloud application.
Recently, we've received inquiries from existing Sage customers that are interested in switching from the on-premises version to Sage 300 Online. Why? The reasons vary, but most relate to one or more of the benefits of Sage's SaaS product, including the following:
Elimination of the investment in new database/application servers and of ongoing maintenance of these servers,
Freedom from backup worries, as database and environment backups are handled by Sage,
Secure, remote accessibility without the need for a complicated VPN,
Predictable, flat monthly cost under a subscription model, and
Perhaps most importantly, freedom from having to undergo periodic software upgrades, which are handled entirely by Sage.
Sage customers also know that if they decide to switch back to an on-premises version, they have the ability to do so without having to undergo an expensive data conversion.
At last summer's Sage Summit, Sage announced that Sage 300 Online would be a undergoing a significant overhaul to modernize both its underlying architecture as well as the user experience. The roll-out of the new product is now gaining momentum.
The improvements began with moving Sage 300 Online to the Microsoft's Windows Azure Platform, which combined multi-tenant database platform services with private, virtualized environments for the Sage 300 ERP applications. The latest Microsoft Remote Desktop client, RDP8, replaces the older Citrix ICA client to provide a more modern, windowed, user experience. By leveraging Microsoft's worldwide network of Azure datacenters, Sage should realize improvements in performance, scalability and reach.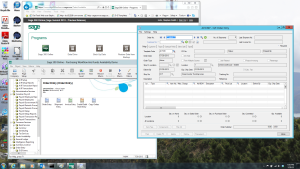 After logging in with a new Sage ID, users land in an application portalthat provides access to subscribed and authorized applications, such as Sage 300 ERP. I would not be surprised to see access to new Sage Mobile applications available here in the future.
Sage 300 Online is not yet suited for all customers, especially those with customizations or 3rd party applications that are not currently provided through the platform. The supported 3rd party solutions include popular applications from Aatrix, Avalara, Orchid Systems, Pacific Technologies, and Wellspring Software. New applications may be expected as they are vetted by Sage. Sage 300 Online is also moving to a "continuous delivery model", which means that new features and improvements should appear in the product sooner rather than waiting for normal 18-24 month upgrade cycles.
Want to learn more about comparing and contrasting cloud and on-premises solutions? Join us on February 12, 2014 for a webinar where we'll chat about the similarities and differences...and get your burning questions answered!
If you are interested in learning more about Sage software in the cloud, feel free to contact us.