Last week, as anticipated, Sage officially announced general availability of Sage 300 ERP version 2014. I attended the business partner webinar that took place a day earlier, where I learned that the early release for developers and so called VIP customers was consistent with the latest version.
The release is in keeping with Sage's mode of providing evolutionary (as opposed to revolutionary) improvements to their stalwart ERP. Sage announced with version 2012 that new features would appear between major releases along with each product update. As with all new software, there have been some reported bugs, which have been addressed with software patches. During the meeting, I learned that 2014 Product Update 1 incorporating these patches is anticipated before the end of April. Below are a few of the new features that I found interesting in version 2014:
The Sage 300 ERP desktop received an overhaul that gives it a cleaner and more modern appearance.
A "ribbon style" tool bar with new icons appears at the top of the desktop. Various screens have been redesigned so that they are larger and easier to navigate. Required fields have been indicated by an asterisk.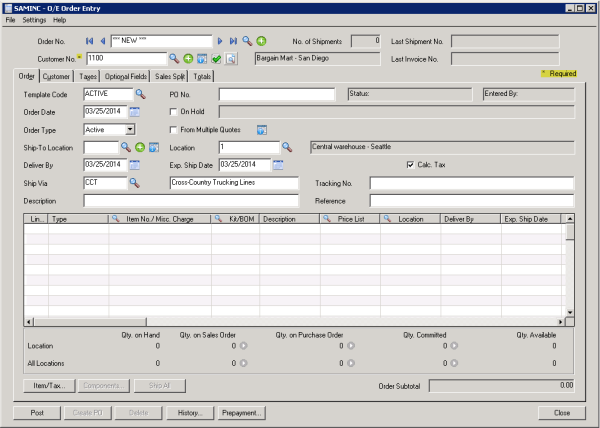 One of the featured benefits of the new release is a clearer view of the users that are currently in the system and what they are doing.
The LanPak Users screen (launched from the desktop Help menu) displays not only which user is logged in but optionally what screens they have open. I know that this will be useful for client's CFO that will no longer need to ask, "Who is in my Accpac?" Better yet, Sage hinted that possible future enhancements will include the ability to "kick-out" specific users from the system.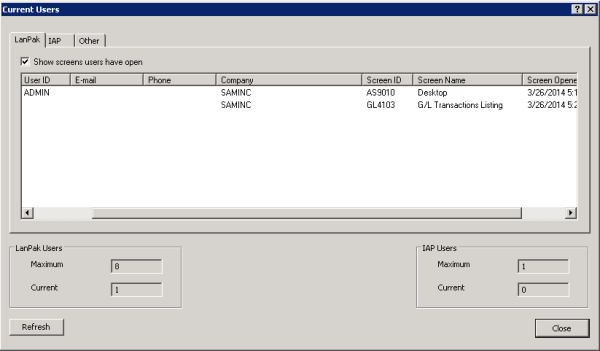 Another nice new feature is found in the General Ledger Transaction Listing. It now provides an ability to run a report that can span multiple fiscal years and fiscal periods.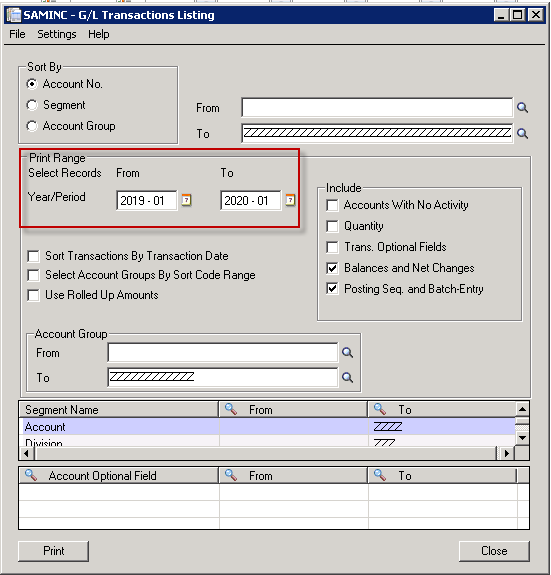 Support for Excel 2013 (32-bit) has also been added for Financial Reporter.
It's important that Sage customers keep the 32-bit requirement in mind before upgrading Microsoft Office applications for users that rely on Financial Reporter.
A New Visual Process Flow has been added for U.S. Payroll.
In version 2014, it's easy to add programs, reports and user interfaces from other modules to Visual Process flows using the Visual Process Flow Designer. I think that Visual Process Flows are one of the best-kept secrets in Sage 300 ERP, as it provides a controller with a great opportunity to define an accounting department's processes, yet few people are taking advantage of the feature thus far.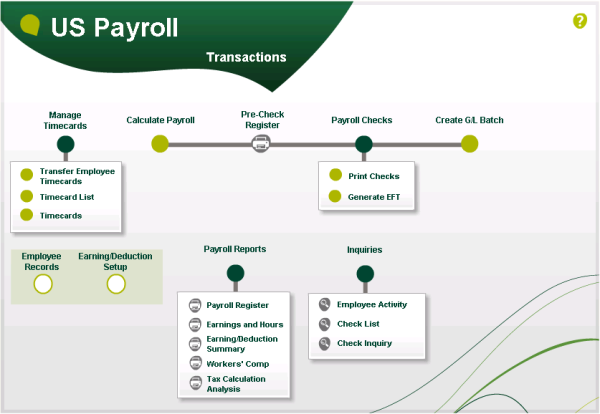 If you are interested in learning about any or all of the new features in Sage 300 ERP 2014, give me a call at (214) 647-2611, x103, or check out one of BTerrell Group's upcoming webinars.