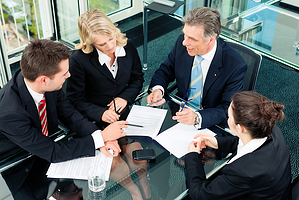 I continue to be impressed by the software knowledge our prospects have by the time they engage BTerrell Group in a discussion about Intacct and Sage accounting software. Obviously, the Internet is a great tool, and we do our best to provide as much information as possible to enable the self education of potential buyers. When a prospect calls us, he or she needs reassurance they are on the right path as well as the experience and best practices we have learned through hundreds of similar engagements over the last 23 years. We, on the other hand, need to develop an understanding of the business issues prompting the software selection process, and we need to prove to the prospect that we understand not only those issues but also the impact of solving them.
One way BTerrell Group learns about a prospect's business issues is by asking a lot of questions and listening to the answers. Later, we incorporate the knowledge we have gained in a document we call a Summary of Findings. In a Summary of Findings, our consultants restate their understanding of the current issues facing the company, the impact of those issues, and the potential benefit of resolving them. In addition, we attempt to quantify the potential benefit of the ideal solution. Rob Johnson, the National Sales Manager of Channels at Avalara (the guys that make sales tax easy!), recently shared an example with me about how he, earlier in his career, was able to quantify an inventory shrinkage issue at a beverage distributor that resulted in a payback period of months instead of years. Our calculations do not always turn out that favorably; however, a properly prepared Summary of Findings must include them.
In addition to resolving business issues like inventory shrinkage, what other benefits might be detailed in a Summary of Findings? The possibilities vary as prospective companies vary, but they generally fall into these basic categories: increased revenues, decreased costs, or achieving some other measurable business objective (like obtaining a bank loan, for example). Specific examples might include:
Reduction of accounting or data entry errors
Elimination or reduction of revenue leakage
Eliminating spreadsheet data and calculations
Decreased costs of routine multi company accounting issues
Increased productivity by integrating data sources in the transaction workflow
The Summary of Findings plays a key part in BTerrell Group's discovery process.
This document states the business case for value, and prospects can be confident we understand the business issues behind the accounting software selection process. In addition, it reinforces a prospect's research of our solutions. Most importantly, a Summary of Findings assists the prospect in the most important decision a buyer will make in the software selection process: the business partner selection decision!
If you are well on your way to deciding that Intacct or Sage software meets your business needs, please contact us today for assistance in your business partner selection decision. It could be the most important decision you make!
Related Blog Post: ERP Implementation Success Factors