Equipping your sales team with the necessary tools to enable them to do their job effectively is crucial in today's competitive market. Having access to critical customer information when sales people are on the road or at customer sites can help drive revenue and keep customers satisfied.
SageCRM's mobile solution for iPhone delivers a rich user experience and provides sales teams with the ability to work effectively regardless of their location via online access through the Apple iPhone. SageCRM for iPhone maximizes user productivity by enabling users to access critical real-time customer data while on the move and increase sales and service effectiveness at every stage of the sales cycle.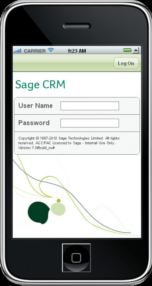 SageCRM for iPhone takes advantage of native Apple iPhone functionality such as the date spinner and the accelerometer, which senses when the phone is turned on its side automatically shifting the display to landscape mode. Users can also leverage the capabilities of
the iPhone whilst on the road with the 'click-to-dial' feature, which enables users to call contacts directly from any SageCRM record. SageCRM for iPhone incorporates Google Maps functionality enabling users to map the address of a contact without having to leave the application.
Equipped with all the existing SageCRM mobile functionality, SageCRM for iPhone is available in SageCRM v7.1 for users with a mobile user license.