BTerrell Group recently announced the BTerrell ProAdvisor Partner Program for QuickBooks ProAdvisors. Many QuickBooks client companies outgrow the solution every year, and their associated QuickBooks ProAdvisor provides the product expertise and support to help make that happen. While that's goodness, what happens when the customer is ready to graduate QuickBooks? Until now, the QuickBooks ProAdvisor was pretty much out of luck.
That's the ProAdvisor Quandry, but what's the solution?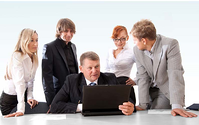 The BTerrell ProAdvisor Partner Program creates a win-win opportunity by providing QuickBooks ProAdvisors with additional knowledge and support to ensure their QuickBooks client companies gain access to information on midmarket solutions -- such as Intacct, Sage and MISys -- that will help them to continue to grow and succeed in their "life after QuickBooks."
The BTerrell ProAdvisor Partner Program provides monetary rewards to those QuickBooks ProAdvisors who:
introduce transitioning clients to BTerrell Group and the mid-market applications provided by the firm.
The QuickBooks ProAdvisor will work with the BTerrell Group to ensure the client company continues to receive the same high level of expertise that helped them in their success.
In addition, QuickBooks ProAdvisors in the Partner Program enjoy educational and networking opportunities through regularly scheduled mini-conferences that enable them to grow their own businesses, along with access to BTerrell conference room facilities and more.
Through the BTerrell QuickBooks Partner Program, those same QuickBooks ProAdvisors that helped their clients grow in the first place become equipped to help their valuable customers receive the finest support and solutions available "after QuickBooks," while retaining cash flow in the process.
If you are a QuickBooks ProAdvisor and would like more information on the BTerrell ProAdvisor Partner Program, please click below and/or contact Keith Karnes, Director of Client Solutions.