Many mid- to large-sized businesses have a chief financial officer (CFO) managing the finances and a human resources (HR) manager managing the workforce. These two seemingly unrelated elements have a rather significant impact on your bottom line. Connecting the CFO and HR can bridge the gap between human capital and financial performance, which can create even more value within your business.
CFOs have a long list of financial responsibilities that require close attention to details.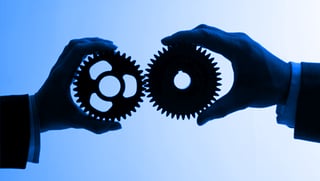 Watching cash flow, payroll, spending, and sales takes strong business management solutions with dynamic business intelligence and reporting features. Finances are often considered the lifeblood of a business, which is why they are monitored so closely. However, equally important is the caliber of your employees. Whether you offer professional services or run production lines, you need skilled and qualified employees to reach financial goals. The quality of your staff and their level of productivity can impact corporate performance. As such, human capital metrics present a new set of data to the CFO to consider alongside the standard dollars and cents; and, this is where the relationship with HR becomes increasingly important.
Most HR departments manage a variety of employee-centric data, such as the experience, certifications, and training opportunities for each employee. This information can ensure that you assign the most qualified people for each task, which improves the quality of work while reducing the chance for errors. Job performance, salary, and other variables can provide additional guidelines for managers to estimate the value of employees. As you invest in employees, you may see an improvement in productivity, profitability, and other value-added results. You are also likely to reduce turnover, which can be costly and take time for businesses to replace and retrain key talent.
Workforce Go! HRMS is a powerful application that integrates Ameriflex Workforce Management Solution, a best-in-class human resources management solution, and Intacct, an equally best-in-class accounting solution, and streamlines the relationship between the CFO and HR. Armed with this modern technology, you can have full support for payroll, reporting, analytics, and many more features that can connect people and finances to improve productivity and insights. Contact BTerrell Group for more information about using these tools to bridge the gap between the CFO and HR to create more value within your business and your workforce.
By BTerrell Group, an Intacct Premier Partner and Sage ERP Partner
Keywords: chief financial officer, CFO, human resources, HR manager, Connecting the CFO and HR, human capital and financial performance, productivity can impact corporate performance, human capital metrics, HR departments, employee-centric data, reduce turnover, Workforce go!, Ameriflex Workforce Management Solution, human resources management solution, Intacct, powerful accounting solution, Intacct Premier Partner