As mentioned in a previous blog post, insight into your business can help you stay on track, but what metrics within that insight are truly valuable? There are hundreds of metrics where professional services organizations (PSOs) can improve financial performance.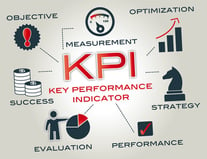 SPI Research highlights five of the most important financial metrics in their report "Five Key Performance Indicators (KPIs) for Greater Financial Success" and we expand a bit on each KPI below:
Annual Revenue per Billable Consultant: This metric shows you just how productive your consultants are but it must be viewed in conjunction with your labor costs to get a truer sense of where you stand.
Annual Revenue per Employee: This is slightly different from annual revenue per billable consultant because it focuses on organizational effectiveness. It should include both billable and non-billable employees to show the overall profitability of your firm. PSOs who gauge revenue per employee can determine the appropriate size and financial health of their organization. SPI Research considers over $180k per employee as the minimum for financial success.
Billable Utilization: SPI research defines employee utilization on a 2,000 hour per year basis. It's calculated by dividing the total billable hours by 2,000. Utilization is a major indicator of opportunity and workload balance as well as a signal to expand or contract the workforce.
Project Overrun: This is the percentage above budgeted cost to actual cost. Anytime a project goes over budget, it cuts directly into a PSO's profitability, so it's very important to keep this metric in check at any given time.
Project Margin: This is the percentage of revenue which remains after paying for the direct costs of delivering a project. PSO financial performance suffers greatly when and if your project margins drop below 40% on average. If profit is low, PSOs can't invest in future growth.
The KPIs above are critical in keeping your staffing organization healthy as well as on the right road for growth. These metrics and more, such as "Total Number of Placements", can be kept in statistical accounts within Intacct, a robust financial management and accounting ERP package. Most ERP solutions do not support statistical accounts, but Intacct isn't like most software. It's flexible and with the right 'know-how' behind it, is perfect for staffing companies. Contact us at BTerrell Group to learn more about using Intacct for your staffing KPI needs.
By Brian Terrell of BTerrell Group, LLP, Intacct and Sage ERP & CRM provider based in Dallas.