The professional services market is booming, which is making it highly competitive. Customers in need for professional services have many different firms to choose from, which puts the pressure on firms to determine how to outpace competitors and impress customers while also protecting profits. Which leads to the question: how do you measure success and outperform the competition?
We recently participated in a Twitter Chat with Intacct, sharing tips about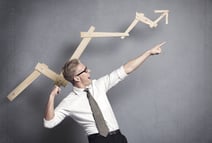 measuring success using Key Performance Indicators (KPIs) which are a set of metrics that businesses monitor to determine what they are doing well, or poorly, and then use to make improvements. Measuring metrics involves using the business intelligence features within modern business management systems, spreadsheets just aren't an efficient way to measure financial performance, labor, or other datasets.
Intacct is offering an On-Demand Webinar: The 5 KPIs that Matter for Professional Services , which highlights what financial metrics you should follow and how you can use this insight to drive profits and growth. Register for the webinar and contact BTerrell Group for more information about Intacct solutions or using metrics to measure success and staying ahead of competitors.
By Brian Terrell of BTerrell Group, LLP, Intacct and Sage ERP & CRM provider based in Dallas.