The new standards of reporting for the Affordable Care Act (ACA) (or Obamacare as many like to call it) have officially kicked in for employers w/ 100+ employees on January 1, 2015 and will kick in for employers with 50+ employees on January 1, 2016. Have you made the necessary changes to meet these new standards?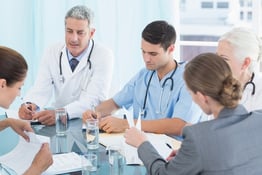 First of all, what are the new standards?? The new reporting system for ACA is similar to the current W-2 reporting system in that a return (Form 1095-B or 1095-C) will be prepared for each applicable employee, and these returns will be filed with the IRS using a single transmittal form (Form 1094-B or 1094-C).
If an employer has 250+ returns, they must file electronically and annually by March 31. Therefore, employers will be filing these forms for the 2015 calendar year by March 31, 2016. A copy of the Form 1095 must also be given to the employee by January 31 and can be provided electronically with the employee's consent. Employers will suffer penalties of up to $200 per return for failing to timely file the returns or provide statements to employees.
With all these new requirements, it's very important to streamline electronic management of these files and forms by using an integrated Enterprise Resource Planning (ERP) solution, one that can manage your documents while creating a trustworthy audit trail behind it.
Let's face it, the name of the game has changed and yes you have to suffer the consequences. But it really doesn't need to be all that bad and with an ERP in place to help manage financial reporting, HRMS, and payroll, you could be gaining more ground in other areas of your business.
Whether you're affected by the reporting changes this calendar year or the next, it's not too late to get an ERP solution in place, especially one that's in the cloud. Intacct is a best-in-class cloud financial management and accounting solution that's easy to implement and helping mid-sized businesses meet new reporting requirements every day. Not only do you need a powerful ERP, but you need to make sure it can integrate with your other systems in place. Workforce Go! allows for full integration between Intacct and AmeriFlex Workforce Management Solution. Ameriflex Workforce automates HRMS compliance functions without giving up Intacct's ability to support dimensions and automatic transaction posting.
Contact us at BTerrell Group, LLP for more information about Intacct and Workforce Go! Change the game at your organization to make the odds in your favor for complete and accurate ACA reporting when the time comes.
By Brian Terrell of BTerrell Group, LLP, Intacct and Sage ERP & CRM provider based in Dallas.