Processing payroll seems to get harder and harder, especially as you add employees, change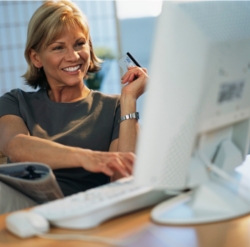 benefits, or look for ways to achieve financial goals. Entry-level solutions can only take your business so far before you've grown out of the limited capabilities that they can offer. Now is the perfect time to rethink your technology and get ready to start the New Year on the right foot.
Successful companies undergo many changes – business acquisitions or expansions, new product and service offerings, and a growing list of customers. Such growth also can add to the number of employees you maintain, which can lead to changes in payroll and benefits. All of these changes can impact the bottom line. However, while your business is changing, your accounting and payroll systems have not and this can lead to problems. If you are experiencing big changes or making growth plans for the upcoming year, now is the time to reconsider the systems you have in place.
Position your business for success by implementing stronger technology that can support growth. Start by upgrading grading the entry-level accounting system that you currently use. QuickBooks can only take your business so far and much of the data you have accumulated in QuickBooks can be migrated into Intacct®, a fully-integrated financial and accounting system. This cloud-based solution offers a lower cost of ownership and a stronger return on investment. You can manage all of your financial and accounting processes within Intacct, which provides real-time visibility into your growing business.
You can also integrate Workforce Go! with Intacct to strengthen payroll and human resources management systems (HRMS). Workforce Go! is a combination of both Intacct and AmeriFlex Workforce Management Solution and offers a fully-integrated payroll and HRMS solution. You can save valuable time with the one-click transaction entry from payroll into Intacct and avoid time-consuming redundant data entry, importing and exporting data, and reformatting spreadsheets. Streamlining the payroll process can eliminate delays and improve payroll reporting activities.
Establish the foundation for successful corporate growth by deploying strong technology. Contact BTerrell Group for more information about Intacct, Workforce Go!, and the other powerful business management solutions that can support your continued successful path.
By BTerrell Group, an Intacct Premier Partner