The Financial Accounting Standards Board (FASB) issued Accounting Standards Update (ASU) 2014-09, Revenue from Contracts with Customers. This standard potentially affects day-to-day accounting for every company and surely changes the way business is executed through contracts with customers.
If you are a public, private or not-for-profit entity that has contracts with customers,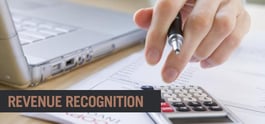 please read closely. Implementation of this standard has already been delayed once, but public companies should expect it to go into effect for reporting periods beginning after December 15, 2017 (private companies have another year – until reporting periods beginning after December 15, 2018). If it seems like a long time from now, think again. It's right around the corner and the contracts you're sending out today must be accounted for under both the old and the new guidance if their term extends into the transition year.
Start the preparation process today with these five steps:
1. Assign and Delegate: Assign a team of employees to take the lead on understanding the update. You may want to pick resources from all areas that include accounting, sales, IT, Human Resources, and legal departments. There's a lot of information out there today to weed through, so start out by viewing this on-demand webinar published by the AICPA: "Understanding the New Revenue Recognition Standard".
2. Evaluate Changes: Have that team evaluate the changes from current GAAP to the new standard. Compare and contrast to see what your company needs to focus on changing.
3. Adoption Plan: After this evaluation and research, start planning out exactly how you will adopt the new standard and how to track the accounting differences.
4. Software Updates: Determine whether you need to make any changes to your IT systems or software applications to capture new information. In order to capture the appropriate level of information related to data used to make estimates on revenue recognition and new disclosures, Enterprise Resource Planning (ERP) software like Intacct can make a world of difference. This update is also a great opportunity to see what type of technology features and functionality you might be missing out on in areas other than accounting.
5. Train and Educate: Keep the project plan humming and facilitate appropriate training for your staff. You also need to educate your key stakeholders on the new standard so that all are on the same page.
For more detail around the Revenue Recognition Accounting Standard, contact us at BTerrell Group, LLP. It can seem a tad overwhelming, but taken step by step, you can be prepared for this update as well as any updates moving forward.
By BTerrell Group, Texas Intacct Partner
Keywords: FASB accounting standards, GAAP, Revenue Recognition Accounting Standard, Financial Accounting Standards Board, accounting standards updates, revenue recognition, contract management, revenue tracking from contracts, Enterprise Resource Planning solutions, ERP software, accounting software, Intacct