Recent changes proposed for revenue recognition standards by the Financial Accounting Standards Board (FASB) and the International Accounting Standards Board (IASB) will converge different world wide methodologies to reduce confusion when comparing results across countries and industries. However, complicated financial processes, such as those with subscription billing, may become even more difficult. Businesses wanting to gain control over the billing and pricing challenges of recurring revenue contracts can get help today with Intacct® Subscription Billing.
How will the changes in revenue recognition standards affect your industry?
Under the current revenue recognition rules, businesses in different industries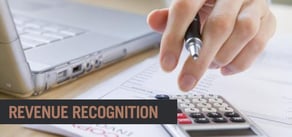 record and account for revenue in different ways. As soon as the new standards take effect, certain businesses may be changing those ways, particularly when billing on a subscription basis. Software and communication businesses, for example, will experience a different impact of the new standards compared to automotive or other manufacturers. While each type of industry must determine how these new rules will impact reporting procedures, it's clear that having the proper financial systems in place can help prepare for the changes that will be required of public companies in 2018 and private companies in 2019.
Simplify Complicated Billing Cycles and Revenue Management
Subscription Billing by Intacct, in combination with Intacct Revenue Management or Intacct Advanced Revenue Management, simplifies the often complicated subscription billing cycle. By integrating processes within a single solution, you can:
manage billing, subscription changes, and revenue with greater accuracy

create customized invoices and indirectly bill distributors and resellers, choosing from one-time, monthly, or other milestone billing timeframes

use tiered usage pricing, defining prices based on usage tiers instead of contracted minimums

easily align your offerings and revenue models to your evolving business strategies
Automating complicated terms and billing frequencies within Subscription Billing saves valuable time, improves the accuracy of invoicing, and strengthens contract management.
In addition to billing automation, your company can create automatic subscription renewals or easily change subscription terms when necessary. As accounts change, Intacct Subscription Billing automatically captures those new contract details and accounts for that revenue. Since all of this data is easily found within the single solution, your company can prepare the appropriate financial reports needed for shareholders, banks, and regulatory reporting.
Businesses must manage a lot of financial information, and subscription billing complicates an already challenging process. However, with the right business solution, companies can streamline financial management operations and reporting obligations. Contact BTerrell Group for more information about strengthening these important financial practices.
By BTerrell Group, an Intacct Premier Partner and Sage ERP Partner