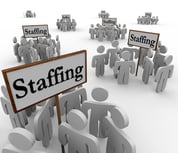 The number of temporary workers reached an all-time high this year and the numbers keep on surprising market analysts. But when you really break it apart, it makes sense why temporary employment benefits both employers and employees. Here's a look at a few of those perks from an employer standpoint:
Faster onboarding processes gets workers in the field quickly, without risking any down-time.

Instead of making a major commitment after an interview process, it's almost like a job audition where employers can see how productive, competent, and trustworthy an employee can be, first-hand, before actually hiring them on as a full-time employee.

Whether the temp employee leaves after the assigned project or stays on as a temp-to-hire individual, the employer sees lower risks from a financial standpoint and lower turn-over rates at the organization.

Temporary employees help manage workload for full time employees, keeping morale high. Full-time employees won't experience burnout and will want to stay with an organization longer.

Ultimately, temp employment greatly increases flexibility in the workforce. During the recession, many companies realized they could drive their businesses forward more efficiently while harnessing as much productivity as possible with temporary employees.

From an employee standpoint, trends like new college graduates looking to develop a number of skillsets and baby boomers taking on part time work after a few years of retirement help keep the staffing industry growing beyond expected projections. The flexibility in temporary positions works well for these brackets of people.
Temporary positions have also become a lucrative career choice. Salary increases for temporary workers are seeing major growth. Paul McDonald, senior executive director for staffing firm Robert Half International mentioned in the report Staffing Still Soaring that "Salary increases for temporary workers are following what we're seeing in the permanent placement market. In the high-demand areas, we're seeing salary increases, and in the low-demand areas, we're not."
Now that the economy is improving, however, companies are having a tougher time finding the right talent because the talent seems to now have the upper-hand and more control over their careers. People who are looking for work tend to have multiple choices for their next opportunity.
With this rapid growth in the staffing industry, companies need to pay more attention to how they plan to find the right talent for their organization as well as how they can keep them on their team.
One way to ensure you offer up a desirable workplace is to harness the power of an Enterprise Resource Planning (ERP) solution. Not only will an easy-to-use and dynamic interface attract employees, it will help you manage your employees with the proper HR and Payroll functionality. Intacct® and Ameriflex Workforce Management Solution provide you with a fully integrated Payroll and HRMS solution to help staffing organizations manage their employees to achieve low turn-over rates and keep on those highly productive employees, whether they're full-time or temporary. Contact us for more information about Intacct today.
By Brian Terrell of BTerrell Group, LLP, Intacct and Sage ERP & CRM provider based in Dallas.