I don't know about you, but I think it's easier to change my ways if I know the reason behind it. If I plan to exercise every day, it helps to know by doing this, I will likely lose weight, be healthier and have more energy. The why behind the action makes it a tad more bearable.
The same concept goes for why the Financial Accounting Standards Board (FASB) would make
such a shift in the new Accounting Standards Update (ASU) 2014-09, Revenue from Contracts with Customers. Managing or recognizing revenue is of utmost importance for practically any company in business today and this new update is changing the name of the game dramatically…but why?
Why ASU 2014-09, Revenue from Contracts with Customers, could be a good thing for YOU
Believe it or not, the current state of the Generally Accepted Accounting Principles (GAAP) and International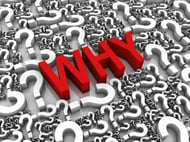 Financial Reporting Standards (IFRS) is not only complicated, it's disconnected. Many experts believe both standards are in need of improvement.
A good example of the complexity is that currently under GAAP, there are different revenue recognition requirements depending on what industry you're in, even if they are similar transactions. The accounting standards for real estate are different from software, but the nature behind revenue recognition in these two industries is comparable to each other.
Instead of focusing on industry, where revenue recognition can be similar in many cases, the new guidance in the ASU 2014-09, Revenue from Contracts with Customers will depend on the nature, timing, and uncertainty of contracts with customers.
Essentially, this update will remove inconsistencies in current requirements, provide a more robust framework for addressing revenue issues, provide more useful information to accountants through improved disclosure requirements, and ultimately simplify the preparation of financial statements.
So the reason behind this update…is good news for YOU! Less work deciphering between requirements means more time devoted to increasing your revenue.
For more detail around the Revenue Recognition Accounting Standard, contact us at BTerrell Group, LLP and get on board with this change.
By BTerrell Group, Intacct Partner based in Texas
Keywords: FASB accounting standards, GAAP, Revenue Recognition Accounting Standard, Financial Accounting Standards Board, accounting standards updates, revenue recognition, contract management, revenue tracking from contracts, Enterprise Resource Planning solutions, ERP software, accounting software, Intacct Partner Texas, simplifying revenue recognition, improved disclosure requirements, Accounting Standards Update (ASU) 2014-09