Accounting Standards Update (ASU) 2014-09, Revenue from Contracts with Customers,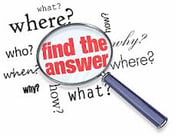 is provoking a lot of questions—and for good reason. The update essentially affects all businesses and requires some major updates to reporting and accounting practices. Read on to see if it applies to you, what you need to do, and when you need to make the necessary changes.
WHO is affected?
If you have contracts with customers for the transfer of goods and/or services, even if they are of the non-financial sort, this update will affect your business.
WHAT is required now?
The main objective for the new update is to recognize revenue to depict the transfer of goods and services based on the amount and expectations of the customer.
In order to report based on this objective, companies need to follow five steps and provide the following accounting details:
Identify the contract with a customer.
1. Identify the performance obligations in the contract.
2. Determine the transaction price.
3. Allocate the transaction price to the promises in the contract.
4. Recognize revenue only when the goods or service is complete.
Essentially, companies will need to update their contracts to provide this new level of detail and make sure their accounting processes only recognize revenue from these contracts upon completion of the work promised to the customer.
WHEN will this be in effect?
This update has already been postponed a year, but public organizations should apply the new standard beginning after December 15, 2017. Nonpublic organizations have another year, starting after December 15, 2018.
Even though this is down the road, public organizations should apply the standards within the proper annual reporting period, which means this already begins January of 2017 for public organizations.
Both public and private organizations can adopt the standard early and there's no time like the present.
Updating contracts won't be too big of a hassle, but making sure your reports align with the completion of work does require more automation in place. Enterprise Resource Planning (ERP) software, such as Intacct, can help you reach that level of automation. Contact us at BTerrell Group, LLP to learn more about the new FASB accounting standards, as well as what is the best technology to help you adapt to these changes.
By BTerrell Group, Intacct Partner based in Texas