Guest blog post
by Carlos Raad, Channel Sales Manager
DocAssist
The cloud today is a lot different than it was seven to ten years ago. The cloud has made a large impact on business. Companies embracing cloud-based tools and platforms — such as document management, storage and workflow collaboration — tend to overwhelmingly see quicker returns on their investments in the form of greater innovation and greater internal efficiencies.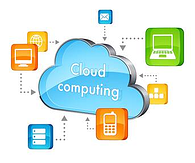 That's the key takeaway from a recent IBM survey of 802 cloud decision makers and users worldwide. Companies that use cloud-based tools and platforms are reporting almost double the revenue growth and have nearly 2.5 times higher gross profit growth than peer companies that are more cautious about cloud computing. Cloud-based tools and platforms are enabling an unprecedented wave of collaboration within and between enterprises. Even small companies, who may have multiple locations or departments, are collaborating with suppliers, customers and employees in real-time, in the cloud.
Many companies today are trapped in their infrastructure, in a set of on-premise legacy capabilities. These companies also tend to be steeped in high capital expenses. Hardware may be costly to maintain (such as servers and other devices), and it's extremely costly to upgrade or expand.

So why choose a cloud-based technology platform like Docassist? Docassist makes a BIG difference in collaboration. Docassist is accessible from a wide range of devices that employees and executives now carry around with them and use for work. Companies are also structured differently these days. Work tends to get done through ad-hoc teams, versus more rigid command-and-control structures. Collaboration tools like Docassist help these teams function more effectively, and optimize their current processes, which leads to greater productivity and overall ROI.

Another key point is that cloud-based technologies are not reserved exclusively for IT projects. While IT initiates and supports many cloud processes, at Docassist we typically have the full involvement of senior executives across all disciplines, from sales and marketing to operations and finance. Because the cloud touches so many areas of the business, it needs to be led by a cross-section of the business. There's recognition from the top that the cloud is a shift, a global business shift, and it's time to get on board. Plus, the cloud has very low barriers to entry — it tends to be easy to buy and easy to deploy.
BTerrell Group is hosting a webinar, Document Management Made Simple, on November 13th at 1:00 pm CT for prospects and customers to get an overview of how Docassist can help your business, and how the product integrates with Sage and Intacct. Attendance is limited!