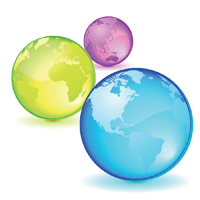 Now more than ever, electronic commerce and globalization make expanding a business to multiple countries possible. Small to medium-sized international businesses face additional financial management challenges not common to most domestic businesses.
For example, multi-nationals need to enter transactions and report results in multiple currencies and languages. Also, they need to make a multi-lingual user interface available to accounting personnel. Once these and other requirements are identified, the software selection process narrows to a select list of capable multi-national ERP software publishers. The challenge for the CFO or CIO, then becomes evaluating these applications.
When reviewing multi-currency capabilities, CFOs and CIOs must ensure solutions comply with domestic and international standards, such as FASB 52 and FRS 21. In addition, they look for solutions that do not limit the number of currencies or exchange rates that can be used. Executives want a system that saves time and reduces errors by automatically updating the spot rate on a daily basis through on-line connectivity. They also must identify which solutions support both the Recognized Gain/Loss accounting method and the Realized/Unrealized Gain/Loss accounting method for complete flexibility. Finally, they require multi-currency transaction support applies to all ERP modules, including consolidations and inter-company transactions.
Multi-lingual support ideally allows a user interface language to be assigned on a per-user basis. There are several key questions to answer and discover under this subject. This requires the language overlays to be available in the desired language, so you must ask the publisher which languages are currently supported and at what price. Another area of focus, is does the multi-lingual support extend throughout the program to all screens and reports or is it limited to certain forms like invoices and checks? Also, can a language be assigned on a trading partner basis? And finally, will application error and warning messages present in the specified user's chosen language?
A couple of final considerations important to multi-national companies include support for local taxes and regional settings. Taxes vary all over the world, and a robust and flexible transaction tax accounting module supporting many complex taxing authorities and calculations is key. Regional settings support takes advantage of the underlying browser or operating system to direct the system on how it presents the date and financial amounts. Is DD/MM/YYYY preferred over MM/DD/YYYY? This and other regional settings should be configurable by the user and not mandated by the ERP system.
BTerrell provides Intacct and Sage solutions from small to medium sized business financial management applications. Both applications support multi-national business transactions. Please contact us for more information or assistance.
Bonus material: Here's a nice article from Roger Russell, Senior Editor, Accounting Today answering six questions companies should ask before going international.