Businesses that use Sage 300 ERP for managing their inventory and sales orders face a question of how and when to process the costing aspects of their inventory transactions. In Sage 300 ERP, inventory quantities (on-hand, on P/O, on S/O, and committed) are updated as soon as a transaction is posted, however, costing has typically been aggregated into a once-a-day batch process. The application has always had a user interface called DAY END PROCESSING residing within the Inventory Control Periodic Processing collection that is used to perform a large number of processing functions. Those functions include:
Calculating costing data for all inventory-related transactions that have occurred since the last Day End Processing.
Producing G/L journal entries from the transactions processed.
Updating Inventory Control Posting Journal.
Updating Inventory Control Statistics
Activating and posting future sales and purchase orders that have reached their order date.
Removing quotes and purchase requisitions with expiration dates that have been reached.
Updating sales commissions
Creating Accounts Receivable invoice batches from posted Order Entry transactions.
Updating statistics and history in Order Entry and Purchase Orders.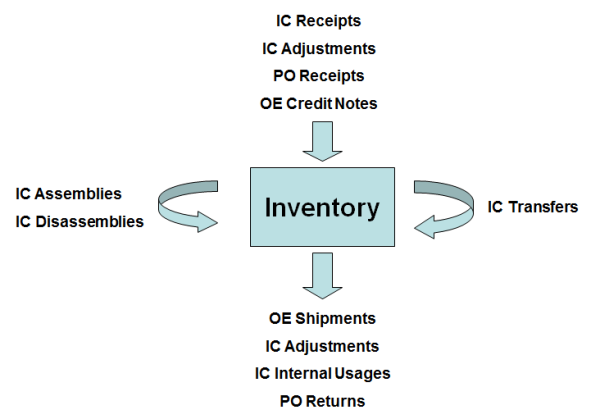 As the name implies, Day End Processing was designed to be run at the end of a business day. However, many companies require access to inventory values on a more frequent basis, and consequently run Day End Processing two or more times a day. This is particularly true for companies with 24-hour operations. In response, Sage introduced the option of performing the costing function upon posting each inventory transaction. They managed to do this without locking up or negatively impacting other users that were entering and posting inventory transactions. The option is configured within the Inventory Control Options Costing Tab, which also allows for the option of concurrently creating the related subledger transactions.

When costing during posting is enabled and the G/L Integration configurations are configured to create G/L Transactions by "Creating and Posting a New Batch", the General Ledger inventory balances are effectively maintained in real time.
Sage cautions that if you cost inventory during posting, sales order and purchase order posting will naturally take longer. On the flip side, Sage development guru, Stephen Smith, argued in a 2011 blog article that the delay during posting is minor. Nevertheless, for many users whose primary function is to enter or process sales orders, the additional delay is not acceptable.
The impact of the "Cost on Posting" performance penalty is a function of the number of order entry users and the number of inventory transactions processed. I believe that companies should at least try out the "Cost on Posting" option to determine whether posting times are acceptable. If the option is found to be inefficient, companies can revert to costing during day end processing. There are other alternatives to obtaining frequent inventory value updates.
One such excellent alternative is to utilize Process Scheduler, an application from 3rd party developer, Orchid Systems. Process Scheduler can be configured to automatically run Day End Processing at pre-set intervals, multiple times per day.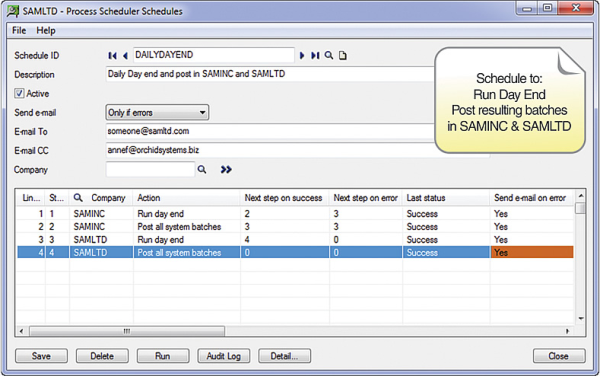 Additionally, Process Scheduler can automate other system processes, such as posting all subledger and General Ledger batches, so that G/L balances are completely up-to-date upon completion. Even further, after Day End Processing and posting of all batches is completed, Process Scheduler can kick-off daily reports. The amount of labor and frustration saved each day can be enormous.
If you would like to learn more, let us know. We'd be happy to help you decide what's best for your company.