You may recall my blog article last month about using the SQLCMD utility to run a script from the command prompt to restore a database. Ever since then, I've found more and more opportunities for the SQLCMD utility to help me manage challenges in Microsoft SQL Server.
This time, the challenge was to generate a scheduled CSV output of data from SQL Server. I could get the data I wanted formatted correctly by using a SQL query and then copy/paste into Excel, but I needed to find a way to have this process done automatically, on a schedule. A little bit of Google-ing led me back to utilizing the SQLCMD utility.
I saved my SQL query that returned the data formatted the way I needed and then entered the text below in the command prompt line:
sqlcmd -S server\instance -i c:\SQL_Query.sql -o c:\CSV_Output.csv -s","
This generated the CSV file, but I still required this process to be scheduled. I knew I could use Windows Task Scheduler to start a program on a schedule I specified, and since SQLCMD is run from the command prompt (cmd.exe), I set up a task to start cmd.exe and used the above text in the add arguments field.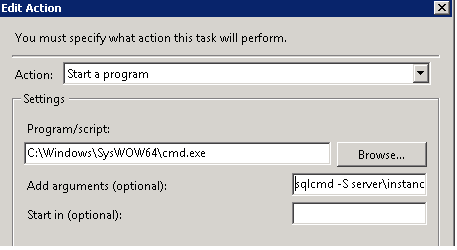 I've included a list of other arguments for your reference you can pass sqlcmd:
-a packet_size
-A (dedicated administrator connection)
-b (terminate batch job if there is an error)
-c batch_terminator
-C (trust the server certificate)
-d db_name
-e (echo input)
-E (use trusted connection)
-f codepage | i:codepage[,o:codepage] | o:codepage[,i:codepage]
-h rows_per_header
-H workstation_name
-i input_file
-I (enable quoted identifiers)
-k[1 | 2] (remove or replace control characters)
-K application_intent
-l login_timeout
-L[c] (list servers, optional clean output)
-m error_level
-M multisubnet_failover
-N (encrypt connection)
-o output_file
-p[1] (print statistics, optional colon format)
-P password
-q "cmdline query"
-Q "cmdline query" (and exit)
-r[0 | 1] (msgs to stderr)
-R (use client regional settings)
-s col_separator
-S [protocol:]server[\instance_name][,port]
-t query_timeout
-u (unicode output file)
-U login_id
-v var = "value"
-V error_severity_level
-w column_width
-W (remove trailing spaces)
-x (disable variable substitution)
-X[1] (disable commands, startup script, environment variables and optional exit)
-y variable_length_type_display_width
-Y fixed_length_type_display_width
-z new_password
-Z new_password (and exit)
I set up my task to run every night at 2AM and it is working perfectly. The SQLCMD utility helped me resolve two challenges in the past month and I hope to find more opportunities to use SQLCMD to share moving forward.