By Brian Terrell; September 19, 2019
Recently, I spoke to a large group of Intacct value-added resellers gathered at the Intacct Business Building Conference. I introduced several products that BTerrell and our CodePartners division developed to help Intacct client companies automate key business processes in HR, treasury, invoicing, and salesforce compensation. The conference was hugely successful, and I enjoyed my time with the great folks who were there.
I ended my presentation by sharing how we help mid-market accounting and finance VARs win more deals. We do this by adding the "last mile of automation" to help fill any gaps between the client's functionality needs and the out-of-the-box offerings of Intacct and Sage 300 ERP. No software publisher can dot every single "i" and cross every single "t"; so, we fill those gaps when it makes sense and thereby help VARs win deals they might otherwise not make.
Our processes include weekly status updates to VAR customers on the progress of our engagements. And we often speak and work directly with VAR clients, and we treat them like our own. Check out this note from one of our VAR clients noting the value we place on honoring our VAR customer's relationship with their clients: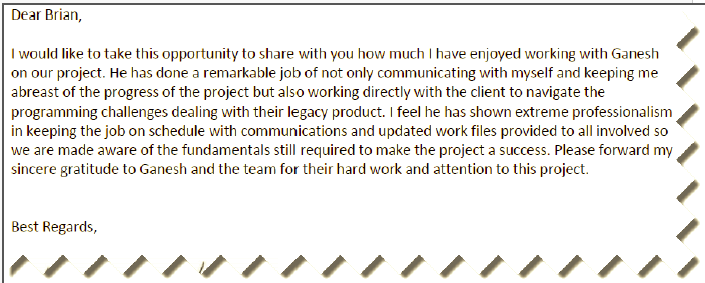 Finally, here's another VAR expressing just how grateful he is that we stuck in there on a very difficult project.
We get a lot of demanding assignments for which an easy solution doesn't exist -- otherwise, someone would've already done it. I like to tell our group of business analysts, project managers and software coders that we are in the business of creation. If what we do did not need to be created from scratch, then it could probably be bought off the shelf from some other supplier. Note the last sentence in this note in which the VAR reminds me of the challenge of the engagement and our part in making his whole project successful: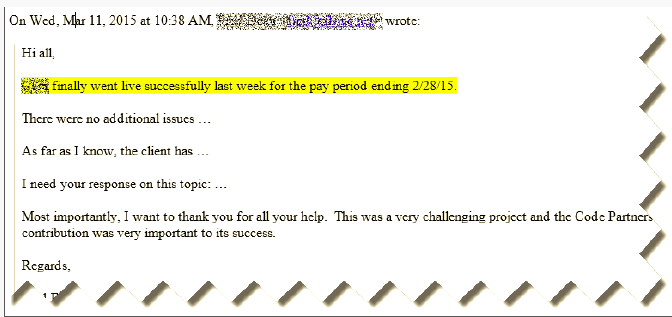 Needless to say, I love my job!
All of these emails have arrived in my inbox in the last 60 days, all are from VARs, and I have 3 or 4 more I could share from that same time frame -- but, you get the point. At BTerrell Group,we help business partners make deals they'd otherwise miss by delivering the last mile of automation.
Contact me using the button at the top of this page to see how we can help you, too!