Malcolm Gladwell's books always make me think, and his excellent writing makes the thinking easy. I've heard him criticized for tenuous and selective research. However, doesn't the way he raises the level of popular discussion and ultimate understanding of an issue go a long way to mitigate those concerns? Regardless, Mr. Gladwell's recent David and Goliath asserts that too much of a good thing, as represented graphically by the inverted u-curve, applies to areas we might not expect, such as smaller school class sizes, artistic marketplaces, and university choice, amongst others. But, I wonder if the inverted u-curve also applies to software customization?
Our firm, in conjunction with our sister company CodePartners, tailors Sage and Intacct software to the exact needs of our client companies. By doing so, these clients improve their return on investment by automating routine business processes, increasing data entry accuracy, and integrating the back office with front office applications. Anytime I see someone entering a number into an accounting software data entry screen from a piece of paper printed by a computer, I see a potential automation opportunity. Why pay the price to digitize data more than once?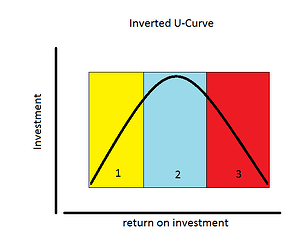 The inverted u-curve includes 3 distinct sections. Section 1 shows the application of increasing resources initially provides increasing results. In other words, initial returns from automation and customization will, when properly designed and delivered, quickly exceed their costs and continue to benefit the company for many years. Section 2 shows a flattening curve where marginal returns prove less easy to obtain. And Section 3 looks like a free fall as the application of additional resources actually result in decreasing returns. What might cause the negative returns graphed in Section 3 to apply to accounting software customization?
Customization costs include not only the current costs to develop but also the future cost to support, to upgrade, and to compute. We understand the costs to develop. What about the costs to support? Because these types of software additions make an implementation unique, additional resources may be required to review, debug and support that uniqueness in the future. In addition, when the baseline software publisher adds features or functions in the form of a future upgrade or product update, then the automation code must be tested to ensure it works well with these upgrades. Finally, software publishers create applications to handle a certain level of transactions for a specified computational cost, or "cost to compute". The coding language, database technology and hardware infrastructure bear these costs to compute. Mid market programs process thousands and thousands of transactions with ease; however, added automation or integration can ramp up the transaction count to levels exceeding an application's "flight ceiling", so to speak. These costs to support, upgrade and compute are real.
Being able to tailor a mid-market accounting application to the exact needs of a client company gives BTerrell Group the flexibility to add tremendous value to an implementation of Sage or Intacct software. In moderation, we know this to be a strategic advantage our offerings have over those of our competitors. We provide this value day-in and day-out to our many client companies. However, we bring another value to the table as well, which is the understanding that too much of a good thing can be harmful in all things, including software customization.
To find out more about how Sage and Intacct software can meet the needs of your business, please contact us for a free consultation!