When it comes to staying on top of company performance, industry-specific KPIs such as new projects booked per month and A/R aging as well as company-specific KPIs are imperative for CFOs and Presidents of professional service organizations to know. Unfortunately, the information isn't always real-time, which makes it ineffective.
I found a great whitepaper recently from Intacct and Service Performance Insight, LLC about KPIs for businesses in the professional service industry, recommending a focus on financial performance for greater financial success. It advises integrating financial management solutions with other departmental solutions for seamless reporting. Reporting is crucial when it comes time to present to key stakeholders, and it is crucial for timely visibility into the performance of the organization.
By narrowing your lens of focus on only those KPIs that are relevant to your role, it will allow you to communicate effectively and make better business decisions. For me, an opportunity would have been missed to improve our company's utilization and realization if I had not been aware of our metrics in real-time. Now, I am able to tie employee rewards and compensation to metrics to drive improved performance and employee satisfaction.
Here's an example of what it looks like to track KPIs using Intacct: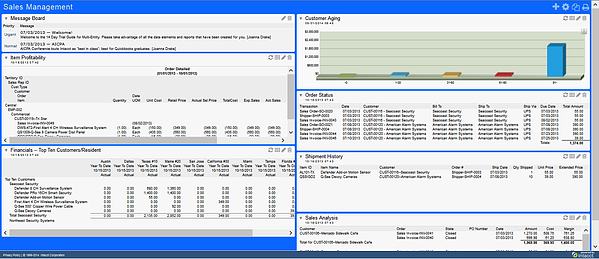 In January, CodePartners posted a great blog explaining how to set up a dashboard in Intacct. Once you set up your dashboard, you are on your way to optimal success!