According to the National Small Business Association (NSBA), one in four small businesses that process payroll internally spend more than six hours per month on payroll. That's at least 72 hours per year! Many times, though, small- and medium-sized business (SMB) owners are responsible for processing payroll. The function of payroll is not just issuing checks; it includes keeping up with commission, changes in personnel, and tax requirements. All of these "extra items," which are integral for businesses, consume not only valuable time but also key company resources.
The cost of internal payroll processing aside, outsourcing payroll can be scary for many small business owners; it was for me, at least until I understood the reduction in risk and benefits attained. By choosing a trustworthy payroll processor, SMB owners actually outsource compliance risk, ensure accurate and timely calculations, and free up time to focus on big picture goals and customers, rather than payroll tax calculations.
Specifically, I believe an outstanding payroll processing partner will:
Offer full, secure bidirectional cloud integration to your ERP solution (no importing/exporting of information)
Recommend that payroll and Human Resource Information Systems (HRIS) share a database
Provide an employee portal where staff can view historical paychecks and W-4s, change addresses, file a new W-9, and add a new direct deposit bank account
Offer both PaaS (payroll as a service - traditional model) and PSaaS (payroll software as a service – meaning you manage all compliance and tax liabilities just like before…the software is just hosted)
Offer optional time-keeping, benefit administration, recruiting, and other HR services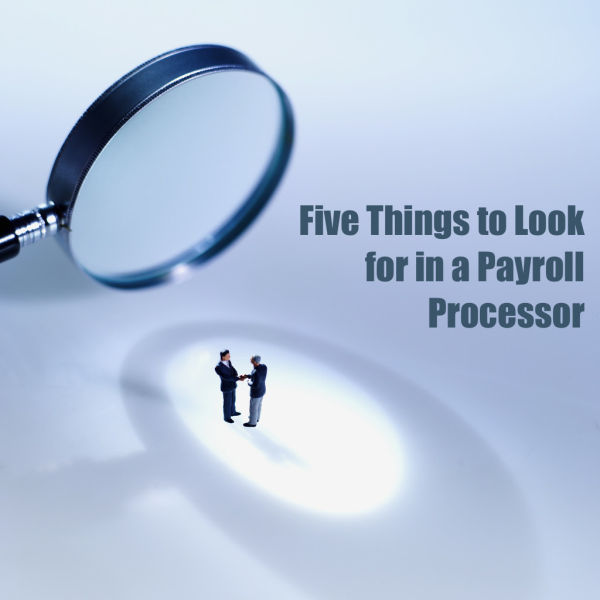 Choosing to move to an outsourced payroll processor can be a viable, cost-effective decision for many SMBs, but it can also be your biggest headache if not chosen wisely. Contact us to discuss the pros and cons of outsourcing payroll as it relates to your specific business needs so you can focus on what your do best…your services, products, and customers!