Many companies are jumping on the CRM bandwagon, and for good reason. Companies that use CRM experience better business reporting, reduced data entry, faster and easier quoting, access to critical sales information, and increased customer service experiences.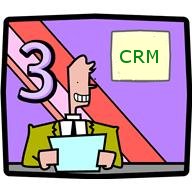 Here are a few basic questions we like to ask our customers when they are considering SageCRM for their business:
What are the specific business problems you need to solve with CRM solutions?
What are the goals and metrics that you will use to measure the business benefits after implementing CRM?
Which users across your organization will need to be trained on the new software?
How does the new CRM implementation support your executive initiatives? What functions could be performed without them?
Who is your prospective target audience?
What does your IT team use for internal support and case management?
Specifically, SageCRM is used by over 10,000 organizations in 70 countries worldwide to manage their critical sales, marketing, and customer service activities every day. Award-winning SageCRM equips businesses with the tools they need to find new customers, close sales faster, and build lasting, more profitable relationships across all channels. Regardless of how, when, or where customers, partners, and prospects choose to interact with your business, SageCRM provides a decisive advantage by delivering a comprehensive, easy-to-use system to successfully manage these relationships. Thanks to its ERP integration capabilities, the SageCRM front-office is powered by data from the back-office to give sales, marketing, customer service, and other front-office staff a true 360 degree view of customers across front- and back-office functions, differentiating it from many other CRM solutions in the market today.

Contact us today if you are interested in learning more about the easy-to-use, flexible software package called SageCRM. We use it in our own business, and we wouldn't run as efficiently without it.