Do you regularly send emails to a group of people?
Do you dread having to remember who is included in the group every time you need to send the group an email?
Do you own SageCRM? (If you are current on software maintenance for Sage ERP Accpac, then you do own a license of SageCRM.)
If you answered yes to these questions, take a look below at the basic steps to send emails to a group in SageCRM. It takes a little bit of setup in the beginning, but it is worth it in the end!
Assuming you have entered your contacts in CRM, the first step is to select "My CRM" from the home screen
Select "Groups" from inside "My CRM"
Click "New Group"
Create a new group using the people you regularly send emails to
Once the group has been created, you can view or edit it at any time
Assuming you created your new group and you are now viewing the list of people in the group, you can now send them an email
While viewing the list, click "New Email" on the right side of the page. The following screen should appear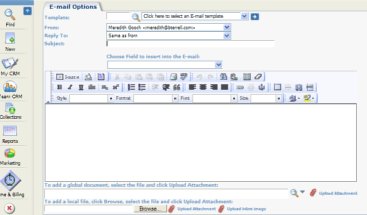 On the screen above you can do several different things:

Select a template for a regularly sent email type
Choose who you want the email to come from
Select who you want recipients to reply to
Enter the subject and the body of the email
You can even attach documents or images inside the email from this screen!
One tip I've learned is that you can even type a command that will make SageCRM insert the recipient's first name in the body of the message. This helps make it a little more personalized for each recipient. #pers_firstname#

Once you have entered the "to," "from," "subject," and "body" of the email, you can send yourself a test or just go ahead and send the email. Sending a test will allow you to receive a copy to make sure everything looks the way you want it to look. If you click "Send" on this screen, the email will automatically be sent to the list you created.

Good Luck and Happy Emailing! Contact us for more useful tips for SageCRM!